Next week's Mainlandization-related trashing of Hong Kong's freedom and reputation will be brought to you by the attempt to imprison three harmless old guys on desperate-sounding charges of 'incitement to incite public nuisance'. The clearly-Beijing-ordered prosecutions will also involve six other figures from the Occupy-Umbrella movement.
The overseas press, interest in local affairs now piqued by the expulsion of Financial Times' Victor Mallet, are already anticipating this four-years-in-the-making farce (Reuters, AFP, VOA), as is Human Rights Watch.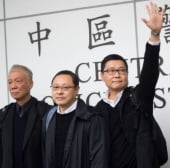 Whatever happens, the outcome will be bad. If the courts play along and put mild-mannered idealistic intellectuals in prison for organizing a protest, they create martyrs, and the international media will report another 'nail in the coffin' for Hong Kong. If the courts find against the prosecution or simply give the defendants a light sentence, the Chinese Communist Party will want to retaliate with whatever constitution-warping 'rule-by-law' travesty it takes to satisfy its obsessive need to punish and intimidate anyone who dares challenge it.
And either way, Chief Executive Carrie Lam will be left insisting that nothing is really happening, everything is in line with due process, your rights will not be affected, One Country Two Systems is still intact, blah blah – while wringing her hands, as if to squeeze out the last drops of credibility.
I declare the weekend open with a summary of declining creative freedom in Hong Kong; , and a look at How's that Chinese Century turning out?
There's also a rumour that the CCP will authorize a 'Sinicized' version of the Christian Bible. Can't wait. Pandas waddle onto Noah's ark. Moses leads his people out of Japanese oppression; he honours 5,000 years of civilization by delivering the 10 Commandments printed on paper in simplified characters, and getting out of Sinai with a compass, and celebrating with fireworks. David is beaten up by plain-clothes security officials and sent to a detention centre before he gets to Goliath. To help reverse the one-child policy, Mary will have several more virgin births. Jesus turns water into baijiu. And it will be much easier for a rich man to enter the kingdom of Heaven.