Should the Celebrity Death Pool start taking bets on how long Xi Jinping can stay in power? From mis-reading Trump, to alienating the Third World with Belt and Road Debt Traps, to imaging he can re-program a million Muslims in camps, to imposing mind-numbing ideology, to strengthening state control of the economy, to launching a personality cult – the guy must be starting to annoy smarter compatriots, and encouraging subversive thoughts among rivals. No doubt I am a few years ahead of the curve on this.
The South China Morning Post gave generous coverage to free-markets economist Zhang Weiying's provocative speech last week. He dismissed the 'China model' as just plain economic-competence-plus-Western technology, and (essentially) warned that Beijing's pretentious and arrogant strutting-around presents China as a threat to the world. Faster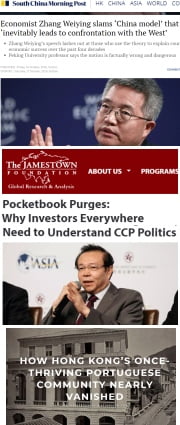 than an Interpol president or 100,000 Uighurs, the speech has disappeared. Commentator Willy Lam is quoted in this article on how the regime is hitting back at academics voicing criticism at this time when Xi's blunders are starting to become obvious.
Some other links for anyone interested…
A densely written bullet-point prose-poem/thread on China's economic dilemma to cut out and keep. Much, much more on Huarong, with gossip on the background and personalities, and how this sort of thing screws your humble retirement savings. An (unintentionally/mildly) amusing little abstract for a dry research paper on the geographic distribution of land-related corruption in China. A summary of how – even as the West is seemingly collapsing under the weight of its failed political, social and economic systems – China isn't winning friends or influencing people. And a look at warm-and-cuddly soft power, Beijing-style, in the US.
The SCMP wrangled somewhat disastrously with the aforementioned Xinjiang concentration camps issue in a slightly infamous editorial, linked to and discussed here. And also in case you missed it, the horrendous and bizarre campaign to win Uighurs' hearts and minds by invading their homes and treating them like sub-normal peasant-savages. Yes – that'll work. And the mind-boggling tech/police/urban-planning re-invention of and Panopticism in Urumqi. (It's a real word.)
The idea is that you can beat and crush distinct identities out of people and turn them into perfect lookalike cookie-cutter CCP-approved citizens. As this review of Last Exit to Kai Tak says: "…the people of Hong Kong are indeed different from their comrades on the Mainland… It is sadly a social and cultural fact, obvious to all, that runs counter to the politics of Chinese One Nation nationalism and the narrative of a self-interested establishment."
I declare the weekend open with some light-ish reading on things that make Hong Kong different: the Portuguese community (where are they now?); thoughts of a half-Brit-half-Filipino in the city; and a history of the trams in pictures.