Civic Party lawmaker Dennis Kwok pleads with Beijing to overcome its paranoid, authoritarian and narrow nationalist instincts, and keep Hong Kong a free and international city. (Full remarks here.) He stresses that China itself will benefit from maintaining Hong Kong as a global centre with rule of law and a free press.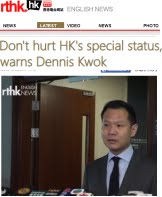 This is a better argument than you would get from some other mainstream pan-democrats, who focus obsessively on constitutional and legal details, as if the Chinese Communist Party has any concept of submitting to rules-based conventions. An even better argument might be to specifically highlight the damage Beijing is going to do to Hong Kong's reputation, competitiveness and overall economy – matters dear to the hearts of local officials.
But it will still be a waste of breath. The CCP's sole mission is to keep itself in absolute power. Anything it doesn't control is a threat; therefore, Hong Kong's justice system, civil society and media must be sidelined, subdued or absorbed. To the CCP, nothing else about Hong Kong matters.
This is the way it will be, certainly so long as Xi Jinping is in charge and trying to create his ideologically pure, centralized, Leninist 'China Dream'.
In a speech to students at the University of Hong Kong, David Webb explains how China (and Hong Kong) can prosper in the long term only if Beijing relaxes its grip and allows more freedom. He cheerily concludes that, as the country encounters inevitable economic problems, either an enlightened leadership or pressure from the middle class will bring forth a more liberal regime. What else can you tell innocent 19-year-olds? (He does, however, mention the possibility of emigration.)
A gloomier scenario is that as China's economy flounders and stagnates in the years ahead, Chairman-for-Life Xi (or whoever) turns to the classic totalitarian textbook solution: hype up the nationalism, xenophobia and militarism. Thus he keeps the world's last empire together, the Party in full control, and the populace obedient and loyal. And there is no happy ending, because no modern, rational and benevolent regime materializes, and the 300 million urbanites are not quite so worldly, civic-minded and selfless as to demand genuine reform and opening-up. It's just another century or two of incompetence, corruption and repression.