Organizers cancelled the 'Gongle' exhibition after satirical artist Badiucao received some sort of threats from Mainland authorities. No-one is saying what the threats are, but 'we know where your family live, pity if something happened to them' would be standard, effective, CCP style. Hey, it keeps Hong Kong on the map.
(See here for an interview with Badiucao and samples of his work, plus a pic of Joshua Wong hanging with Pussy Riot. A Gold Bauhinia Medal goes to whoever covered the Commercial Press store with the cartoons.)
Chinese-British writer Ma Jian reports that Hong Kong publishers will no longer touch his books. (Interview with him here.)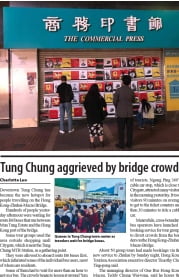 We take your money to build white-elephant projects, and in return we swamp you with people. Tung Chung – the town that makes Tin Shui Wai look fun and hip – is inundated, or you could say 'aggrieved', with package tourists coming over on the Zhuhai bridge. And the critics said no-one would use the thing…
Here's a first-hand report on using the bridge to and from Macau. Basically, if you want the journey to take a leisurely (if you can read Chinese or Portuguese signage) three hours rather than the mere one it takes on the ferry, it's great.
The author remarks that 'you have to leave the bus twice for passport checks at either end of the bridge'. At the border-boundary with Shenzhen, of course, you also go through two immigration inspections, but they are just a minute's walk apart in the same virtually seamless building complex. So if you are changing buses, you do so once. On the ferry (as on an aircraft), you go through the checks in terminals at each end of the journey.
The Zhuhai Bridge's immigration checks emulate an air/sea transport pattern rather than a land-crossing one. That is, after leaving your home you (probably) go bus-immigration-plane/ferry/bridge-immigration-bus to (say) your hotel.
The obvious solution would have been to have a three-way immigration hall combining the Mainland, Macau and Hong Kong checkpoints in one architecturally impressive triangular facility. As illustrated in this rather elegant diagram…
My hunch is that officials insisted on the 'stupid' option for symbolic rather than practical or technical reasons. The 'sensible' arrangement would have given Hong Kong jurisdiction over most of the highway – when the whole point is to jam simplified-character road-signs and other Mainland stuff right in the city's face. Because 50,000 people buying milk powder in Tung Chung isn't good enough.
(I recall once getting my passport stamped while on a ferry – to Tangiers, in fact. I also remember going through immigration formalities on a train trundling from Tunisia to Algeria. But obviously we can only dream of 1980s North Africa-levels of bureaucratic efficiency.)