I am due to take part in a historic event on Sunday: the opening of Hong Kong's ultra-expensive Vacant Express high-speed rail link to places we don't want to go to. Specifically, I will be meeting someone arriving on a train. Assuming the traveller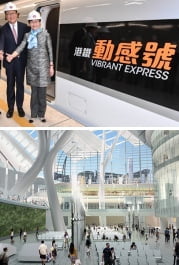 makes it through the Chinese security zone and the sinister secret basements, I might go for some extra excitement by eating in one of the humungous and tacky station's enticing food outlets.
Speaking of thrills, the Hong Kong Free Press article will be out on Tuesday. Apparently, it is 'utterly depressing'.
In the meantime, I declare the weekend open with Mainland-themed recommended reading.
Parallels between Hong Kong and Taiwan are always interesting (as are the differences). One similarity is the Chinese government's inability to admit that it is part of the problem – viewed from the Taiwan angle in this Taipei Times op-ed.
Even by the sketchy standards of most national accounts and statistics, no-one knows anything about China, and that includes its own government.
From CSIS, another brave attempt to work out what Belt and Road is, noting that by now the visionary initiative includes the Arctic, cyberspace, and even outer space. In New Zealand, it's Burglary and Road. And Bloomberg poo-poos Beijing's tech dreams.
If you work at Xinhua, your key mission is to promote Xi Jinping Thought. David Bandurski walks you through the jargon-stuffed memo from the boss. Here's a much bigger overview of how China's propaganda apparatus probably works. And for deep hardcore CCP watchers, from Geremie Barme, the fourth part of Drop Your Pants – you must patriotize again.
If you want 'utterly depressing', legal activist Xu Zhiyong on time in prison.