Chinese officials snottily reprimand the US for imposing tariffs, violating oh-so sacred free-trade principles and behaving irrationally. Behind this self-righteousness and bravado is shock and fear.
Half the newspaper columns in the free world ponderously conclude that even if Donald Trump vanished tomorrow, the trade war would continue – the West has finally woken up to China's systematic predatory and exploitative gouging of the rules-based international economic order. A few commentators are drawing on 'cold war' clichés to broach the subject of a looming major ideological divide between China and the West.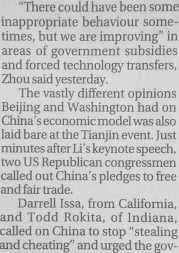 From Beijing's point of view, this growing hostility is an attempt to keep China down. This is not just self-serving and self-pitying propaganda. The West assumed and hoped from WTO-accession days that China would mature into a more open, market-based economy. But this implies the Communist Party giving up its powers to allocate capital, rig markets, guide industrial development, pick winners and stuff its elites' pockets. To the CCP, maintaining control over economic levers is indistinguishable from keeping itself in power – otherwise known as 'restoring national greatness'.
From the West's point of view, the time has come to stop accommodating China's ruthless mercantilism, and reciprocate. If the West is cohesive and determined about this, and assuming that the CCP can't/won't let go of the economy, this leaves the Mainland moving closer to autarky in the future. It wouldn't be the first time in history that China's refusal to open its markets hasn't ended well.
Global markets meanwhile seem unfazed. Perhaps they know how cohesive and determined the West is likely to be.