Bar Association-linked academics (presumably presumed guilty of thought-crimes) are banned from teaching a Common Law course at Peking University. This neatly serves two purposes – crushing unpatriotic radical opponents in Hong Kong, and preventing evil Western ideas from infiltrating the motherland.
While the rest of us had pretty much forgotten about pro-democracy group Demosisto, Mainland security forces have not: they reportedly pick up a couple of members and put them through a relatively low-key Kafka-Stalin-with-Xi-characteristics struggle session. Just a friendly reminder. (At least they're allowed to cross the border.)
Mild-mannered pro-Beijing figure Tsang Yok-sing's 'think tank' proposes formalizing the functions of the Chinese government's Liaison Office in Hong Kong.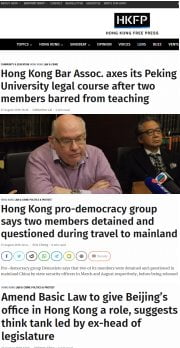 In the Mainland, each level of civil administration (like a city mayor) has a parallel shadow office-holder representing the Communist Party. Tsang's idea appears to be that the head of the Liaison Office (though technically part of the state structure) publicly assumes a sort-of Party Secretary role, watching over Chief Executive Carrie Lam's bureaucrats and guiding them on national and ideological matters. As he says, they're already doing it anyway.
It is no surprise to find Tsang also pushing National Security legislation – otherwise known as 'rollbacks in press and speech freedoms', for which we have been prepared by the oh-so subtle orchestrated Andy Chan/Independence mass-mouth-froth.
Tsang suggests tying it in with political reform – an idea so lame and desperate it sounds like ill-informed and naive minders in the Liaison Office might have asked him to float it as a possible 'sweetener'. Beijing has made it totally clear that Hong Kong (or anywhere in the one-party state) cannot and will not have representative government.
Meanwhile, Andy Chan's HK Independence Party keeps getting extensions to the period for responding to the government's attempt to proscribe it. Presumably, officials are afraid that the whole charade – a ban on a barely existent but law-abiding group – is on shaky enough legal ground without unreasonable-sounding deadlines.
In other words, it's a sign of calculation and determination. The word has come down from Beijing that Hong Kong must eradicate pro-independence (and in due course no doubt other) expressions. The local administration must therefore find a constitutional way of criminalizing certain opinions, while pretending that nothing strange is happening.
Renewed proposals for fake elections would be unconvincing, but the Liaison Office can hope that with the city bending under unbreathable air, unaffordable housing and outbreaks of dengue fever, maybe few will notice abolition of free speech.