Each step in the Mainlandization of Hong Kong is too small to warrant a major fuss. Political prosecution of demonstrators? It's a few kids. Disqualification of lawmakers? They could have read the oath properly. Erosion of legislators' powers? Tedious details. Barring candidates from ballots? Kids again. Pro-democracy academics passed over for promotion? Oh, please.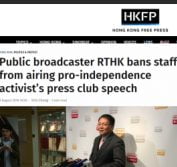 Another sign that the Great Andy Chan/FCC Controversy is different: RTHK's civil-servant boss brings the week to a close by banning the taxpayer-funded station from carrying the Chan lunch talk live.
Director of Broadcasting Leung Ka-wing tries to be nuanced, saying that his news staff can report the event, and claiming that RTHK has 'never given live coverage' of this sort before. But his basic objection is the subject – Hong Kong independence. To leave you in no doubt that the Chinese Communist Party is handing down the orders, he repeats the official blatant BS/mantra that it's 'not about press freedom'.
It's a wonder that RTHK managed to fend off pro-Beijing demands and get away with doing public-service news coverage for this long – several years after government departments like the police, election officers and the prosecutions service abandoned political impartiality. But if the Andy Chan/FCC case is the point where freedom of speech and the press go into reverse in Hong Kong, RTHK's transition to state broadcaster is inevitable. Gradual transition, no doubt.
I declare the weekend open…