Who is this person and why am I supposed to be interested in him? Can't he just go away? After a recent deluge of frantic on-line shrieking about the hitherto-barely-heard-of Kanye West, I am buried by an avalanche of uncontrollably excited Twitter and other babbling on the subject of one Elon Musk, of whom I know equally little and care even less. Isn't there a button you can push, so they just disappear? What's the point of living in an Internet bubble when hyper-inflated inconsequential mega-bores intrude all the time? (And how do you pronounce 'Kanye'?)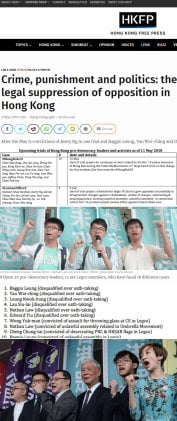 On top of that, I am preparing for an upcoming inspection visit to Japan. In short, just time for a link – a must-read…
Crime, punishment and politics: the legal suppression of opposition in Hong Kong by Kong Tsung-gan at HKFP. Not just an update, but a full survey of the post-2014 'lawfare' against Hong Kong's pro-democrats.
…Hong Kong has never seen anything like this before, so many people in the pro-democracy movement put on trial over such an extended period of time for such a wide array of crimes … prosecutions being used as a key weapon against political enemies.
Among many interesting points: the pro-dems' helplessness in responding, and the government's success so far in maintaining the reputation of the legal system.
The article describes a systematic campaign to intimidate and subdue opponents and critics, which seems to have come in two waves: post-Occupy, and a renewed effort after the 2016 Legislative Council elections.
Its thoroughness suggests explicit instructions and supervision from Beijing and the Liaison Office, reflecting impatience or panic up in the Chinese Communist Party (not to mention the totally obedient/petrified stance of the local administration).
Note that this is happening at the same time as mounting suppression of Xinjiang Muslims, human-rights lawyers, on-line media, and so on in the Mainland. Note also that this coincides with stepped-up United Front 'ideological' work in Hong Kong (the national anthem law, school curriculum revision, push for 'Bay Area' identity, likely curbs on opinion), which in turn is tracking strengthened propaganda efforts on the Mainland through Xi Jinping Thought, Marxism, Amazing China, and so much more CCP-BS-hype.
This is one of those times when you don't fully see what is happening – but when you look back 10 years later you realize what you were living through.