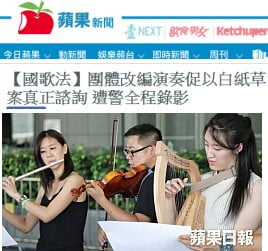 Enjoy it while you can: a rather fetching jazzed-up version of March of the Volunteers, which could be illegal under the forthcoming National Anthem (Sincere Veneration (Compulsory)) Ordinance. The report says plain-clothes cops were videoing this performance, and you have to ask: is the government seriously going to prosecute people for this?
I foresee expert witnesses from music academies telling courts that playing the tune in a particular key or time signature imparts a mood of jollity or somberness or Allegretto, but is not disrespectful – or is. The headline will be: Flautist Gets 18 Months for Playing in 3:4 Time. At what point does the Chinese Communist Party's obsessive and neurotic micro-management of Hong Kong become comedy?
I declare the weekend open with a couple of quick links for aficionados of other disciplines: the risk of renewed capital flight from China, and sunlight requirements in pre-reform China's urban building codes (yes, they had them). For long-read fans: the story of one of America's bloodiest hitmen; and for binge-watchers of low-budget creepiness: Sapphire and Steel.