The Central Police Station Mega-Renovation Thing officially opens today. I looked around the art gallery a few weeks ago, and I poked around the prison cells quite a few years back after the Immigration Department closed the detention centre, formerly Victoria Prison. You could still smell the sweat.
(Other nostalgia from 30 years in the neighbourhood… I remember seeing carefully supervised prisoners in brown shorts and bare feet taking the garbage out onto Old Bailey Street; and going to the amazing old police station facing Hollywood Road – once to appear in a line-up in a drunk-gwailo-assaults-taxi-driver case, for which I was paid a handsome HK$600. Happy days.)
I'm sure the restored building and new arts hub-zone complex will be pretty good. The main reason for this cheery confidence is that they've spent an incredible HK$3.8 billion on it. We could put a manned mission on Mars for that. (Something similar seems to be happening with the tortuously drawn-out restoration at Central Market just down the hill – why spend $X million for basic no-frills conservation when you can blow $Y billion on platinum rooftop swimming pools and other horrid pointless frills?)
If I recall, the bureaucrats' original plan for Central Police Station was – surprise!!! – give it to a scumbag property tycoon. The developer would knock down half the historic buildings for the inevitable luxury apartments (without which no tech or culture hub can exist in Hong Kong), and 'save' the others, presumably by turning them into handbag boutiques.
Instead, the whole thing is being paid for by the Jockey Club slush fund – a 'stupid tax' on gamblers. And running costs will come from horrendously tacky food-and-beverage places, which we should see as another 'stupid tax' on idiots who think overpriced restaurants are cool. (Full details of all the vomit-inducingly pretentious places here.)
Note the exciting branding: 'Tai Kwun' (大館, 'big building/station'). Guaranteed to throw the Western tourists – there was an inundation of Germans yesterday – who have no clue it's pronounced 'die goon' [oo as in 'foot', or the 'o' in 'bosom', if you prefer].
Amid all the excitement, our bureaucrats have overlooked one tiny thing: how do thousands of visitors get into and out of the place?
They've built a link from the Mid-Levels Escalator…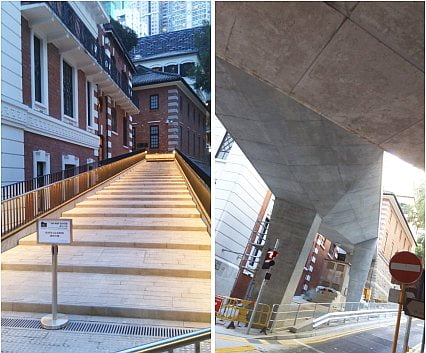 But the Escalator is already operating over capacity (as measured by the number of Korean selfie-stick wielders residents must shove aside per 100 yards, now approaching double-digits). The streets below in most directions are also over-crowded, and typically have 2-foot wide sidewalks and herds of Alphards nudging their way through to illegal parking spots. And the tourism cretins have just relaunched a Sun Yat Sen Themed Attraction Concept Walking Tour of Boring Places Redeveloped Decades Ago, designed to lure millions more tourists into the area to see fake crap installed in space otherwise wasted on actual inhabitants. Meanwhile, just blocks away, new mega-hotel and other towers are rising as if extra traffic will magically float over the existing gridlock.
Of course, officials' brains cannot handle the possibility that there might be a conflict here. Cramming more and more tourists in is obligatory and a compulsion, while managing vehicles is impossible and against the laws of nature – thus there can be no problem. Something tells me that we haven't heard the last of this.