Three leading participants in Occupy are on trial for 'inciting people to incite others to cause public nuisance' among other charges along similar, if less tortuous, lines. This is part of a pattern since the Umbrella Movement in which Beijing's Liaison Office has ordered Hong Kong authorities to inflict maximum vindictiveness on political activists. (The latest meticulously maintained list is here. It'll need a spreadsheet soon.)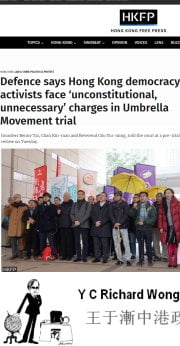 Did public prosecutors come up with the banana-republic-sounding 'incitement to incite' thing to please the Communist Party's rabid goons, or to subvert and attract ridicule to Beijing's authoritarian clampdown here? Benny Tai et al helped organize a demo – we will see whether the courts go along with such desperate attempts to make that a crime.
Other legal stuff… Former Hong Kong official and pro-Beijing um, heavyweight Patrick Ho, facing trial in the US, could go for a plea bargain, a lawyer argues. This could entail him spilling the beans about senior people in China's murky state-capitalist elite. Mmmm… The alternative in the US anti-corruption system is a possible 20-year sentence (which even the Liaison Office would blanch at). So much for the wishy-washy liberal idea that tough sentences don't work. That said, there is a tradition in Mainland graft for middlemen-stooges to carry the can in the knowledge that their family will be rewarded by the genuinely guilty people higher up (a neo-Confucian thing).
Back to housing: Professor Richard Wong has interesting ideas about privatizing public estates and other ways of addressing Hong Kong's key livelihood problem. However, he has a curious obsession with the role of divorce in the equation. There is a link between Mainland immigration and failed marriages (which increase the number of households, thus pressure on demand for cheap units). But to hear him tell it here, public housing pretty much causes divorce. Does he have unique insight into demographics and other social sciences, or is he just a nut (religious or otherwise) on this subject?
One of the best summaries of China's much-discussed Orwellian dystopian face-recognition social-credit Black Mirror nightmare-in-the-making is worth reading here. Does Xi really think he can zombify and herd 1.3 billion? And with that in mind, a breath of fresh air on the China-taking-over-because-of-Trump theme to remind us that 'We suck, but China does too.'