For the first 15 years or so after 1997, the Chinese government refrained from contradicting Hong Kong's understanding of 'One Country Two Systems' and the 'high degree of autonomy'. But after Xi Jinping came to power, Beijing started to clarify and expand upon the meanings of superficially comforting phrases. Chinese officials announced that Hong Kong's self-rule was merely a privilege, that it was anyway limited, and that the perceived promise of democracy was not a promise – oh, and was not of democracy.
In consolidating control as national leader, Xi has declared that the Communist Party is essentially the ruler of everything. Hong Kong's pre-1997 elites and optimists would have been aghast at the idea that this also applies to their city. But we are now told openly and plainly that it's not that Hong Kong is 'becoming red' – Hong Kong is already red. For the first time, Chinese officials are stating that the Communist Party runs Hong Kong.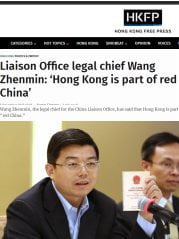 Beijing's United Front and propaganda maestros will be gratified to see some sensitive older pro-democrats swoon in shock. But are they being as clever as they think? They are making the local administration look even more useless (no mean achievement). They are forcing moderate conservatives (including foreign business) to publicly align themselves not simply with a local business-bureaucratic establishment but with an alien, thuggish quasi-religion. And they are confirming to the community at large that, Yes – we are coming for your kids' minds and your rule of law and your free speech.
All of which is jumping the gun. Because, despite the 'just another Chinese city' cliché, Hong Kong is a long way from being subjugated and absorbed. The 'You are already Red' declaration is perhaps not so much high-handed as hubristic. Rather than cow its audience into submission, it is more likely to wake up more fence-sitters and strengthen the suspicion and resistance.
Another sign, perhaps, that we are witnessing 'Peak Panda'.
(Is it something to do with succumbing to their own fantasy-propaganda? Note the latest in the apparent unravelling of the CCP's over-reach down under. It's almost as if the Communists were naïve about Australians' naivety.)
(Update: it's hurt-feelings freak-out time.)