The South China Morning Post probes deeper into yesterday's curious affair of Fanny Law and the Swedish scientists – or at least into Fanny's explanation of how nothing happened. The ex-bureaucrat-turned-Beijing loyalist and Science Park figurehead says she decided to go to the Karolinska Institute in Stockholm before, and in preparation for, her sudden visit to its Lau Wai-ming Reparative Medicine outpost here.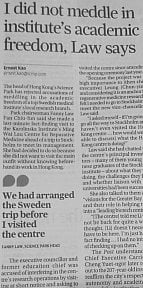 The SCMP reports this straight, as if it clears everything up. But readers who are sensitive to this sort of thing might detect a hint of that 'slightly-hurt overly-elaborate irrelevant-details' tone perfected by many generations of kids caught with hands in cookie jars. There is no word on why the Swedes spoke out to defend their academic freedom, or why Chief Executive Carrie Lam should feel a need to reassure them.
So observers wondering what is happening must rely on their imaginations, which as we all know can get a little sordid.
For example, this comment mentions former CE CY Leung's kid getting a research fellowship at the Institute in Sweden in 2014, and a position in the same field recently being offered by the Hong Kong branch (expired job advertised here and elsewhere). The two pieces of information mean nothing, of course, but someone with a nasty suspicious mind might wonder if an attempt to influence a hiring decision took place.
If we focus our minds on innocent, wholesome, non-sordid possibilities, we can envisage a misunderstanding, or some parochial Science Park bureaucratic empire-building face thing – in other words, nothing happened. Except something provoked the normally mild-mannered Swedes into their comments about research independence, which prompted reassurance from none other than the Chief Executive. Try as we might to think otherwise, something did happen.
It looks as if the Hong Kong, Beijing-supporting, self-important, money-backed, tycoon-bureaucrat nexus – perhaps influenced by Mainland forces – might have found that its rules-don't-apply-to-us culture rubs Scandinavians up the wrong way. But presumably the Swedes need the money. Chances are that this affair will now quietly fade away, and we will never really know.
Meanwhile, you still have several days left to send your Christmas cards off to Patrick Ho in jail in New York.