Some badly needed good news today: the Hong Kong Central Waterfront Rotating Concept Observation Theme Hub has shut down. And not in a boring, official, legitimate manner – but without warning or explanation, in that shabby third-world sort of way that (we can only hope) inflicts severe reputational harm and convinces tourist hordes from around the world to go elsewhere, far away.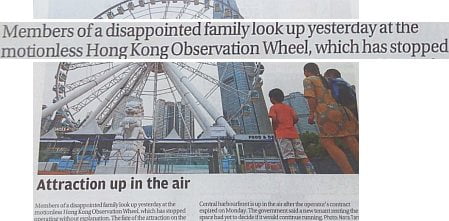 And sure enough, millions of overseas visitors (or three, at least) fall to the ground, sobbing and tearing their hair out in disappointment, and vow never to return to Hong Kong, Asia's Hell-hole Destination. The city mourns in grief. The tourism authorities take emergency remedial action by rushing out the Dog's Guide to Old-Town (huh?) Central.
My personal preference would have been for the unoriginal and unsightly Ferris wheel to have burst into flames (a la Hindenburg), then become detached from its axle and trundled east towards Tamar, causing a giant conflagration around the Government Palace, before tottering over onto its side into the harbour, creating a giant tsunami that swept over Tsimshatsui and wiped out hundreds of cosmetics stores and milk-powder vendors, leaving thousands of pink Hello Kitty suitcases dangling from trees in its wake. But, whatever.