The Hong Kong government is now officially super-ultra-hyper sensitive about the phrase 'political prisoner'.
It has been caught with its pants down. But it cannot admit the truth that the Beijing bogey-man hiding behind the curtain pulled the pants down to start with – and absurdly it stands there, trousers visibly on floor around ankles, flatly denying the pants even are down.
It won't acknowledge that the selective and targeted actions against protestors and lawmakers arise from the purely political Umbrella movement for better governance and promised reforms. It can't concede that anything might have happened that tarnishes its much-vaunted 'rule of law' and its claim to be Asia's legal hub.
It grasps in desperation for a way out, and the best it can manage so far is to link accusations of political persecution with the integrity of the courts. The logic goes like this: if we have political prisoners, it follows that our courts no longer protect our rights; therefore, if you establish that we have political prisoners, you (yes you, you heartless bastard) have destroyed our courts' ability to protect our rights.
In short, if you see something happen – you caused it. Shut up, don't see, and everything's fine!
Obedient press-handlers tasked with government 'communications strategy' show this to top officials who are frantic for a superficially plausible position. Imbued with an old colonial civil service assumption that the public have a mental age of 4, the bureaucrat-politicians deem it convincing – after all, judicial independence is Hong Kong's apple pie. Thus the crappiest-ever line-to-take filters down to hapless columnists who must need money awfully badly…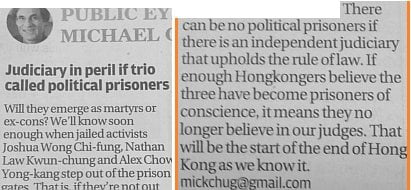 Having found how easy 'rule by law' oppression is in Hong Kong, the Communist Party will be back for more (and that's on top of rounding up scoundrels posting mutilated renditions of March of the Volunteers on YouTube). Hand-wringing Chief Executive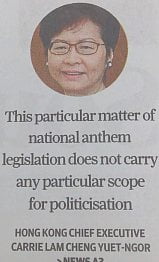 Carrie Lam's soul will shrivel and die before us as she pleads that all is normal and well.
The irony is that if Beijing had left CY Leung in charge he would have come up with a far more credible angle. He would state calmly but firmly to the assembled reporters that teenagers wanting democracy are a threat to national security, it is his duty to crush them like vermin, and what the hell are you going to do about it?
Carrie's only (thin) hope is to divert everyone's attention with some shock-and-awe, radical and reformist good governance on livelihood issues like housing. Behold – a 30-member Land Supply Prevarication Talking Shop to do 18 months' worth of hand-flapping about how there's no consensus.
Meanwhile, please be considerate and bear in mind that every time you mention 'political prisoners' you cause untold agonized squirming among our poor wretched sham-leaders.