The Hong Kong General Chamber of Commerce is where the city's different Big Business sub-cultures come together. They are all there, from venerable former opium traders to modern-day property developers – all our favourite tycoons, cartels, conglomerates and financiers, with some public-sector and bureaucracy oozing in. A glance at the 'horrors of chamber' gallery of chairmen, CEOs and Legislative Council representatives gives you the gruesome picture. (No innovative, disruptive, new-economy, competition-creating tech riffraff, please.)
As an international body, the HKGCC can forego the patriotic, glorious-motherland, Communist-worship that would be required of an all-ethnic-Chinese grouping. But otherwise, it is the embodiment of the Hong Kong establishment – rows of them in their finest networking suits, willing and able to sit through a government official's mind-numbing speech on Belt and Road with a straight face.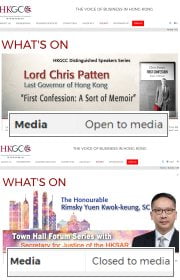 As lobbyists for policies to push rents up and chuck public wealth at white-elephant projects, the HKGCC are, of course, careful to be politically sound. Three years ago, they dutifully backed Beijing's quasi-democracy reform proposals and criticized the Occupy movement. But now, they could find themselves in trouble: they have invited former governor Chris Patten to give a talk next month.
Patten has just committed a minor-grade Outrage of the Panda by voicing support for Hong Kong's newly acquired political prisoners, Joshua Wong et al. It's just a book-plug thing and probably no big deal – but in the world of the pre-emptive shoe-shine, people lie awake at night worrying about the smallest possibility of attracting Beijing's vengeance and wrath.
Perhaps this would be a good time for the Chamber to go over-the-top on publicity for its other forthcoming thrilling exclusive world-famous speaker – Rimsky Yuen, Hong Kong's Secretary for Justice, who reportedly insisted that prosecutors demand Beijing's preferred degree of vengeance and wrath in re-sentencing the young activists. Amid the excitement, maybe no-one will notice they've also invited the Panda-baiting Patten.
Observant types will spot an interesting difference between the two events. Patten – attention-seeking, with a new book to push – will be allowing the press to attend his talk. Rimsky, on the other hand, as a very important, self-effacing and classy Secretary for Justice, has better things to do than answer impertinent questions from reporter-rabble, and will be barring the media. So, tragically, we might never know what he says.