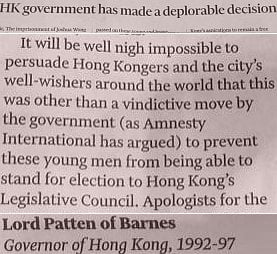 The Hong Kong government is doing its whiny defensive best to freak out at the suggestion that last week's re-sentencing of Joshua Wong and other activists was political. The extreme official panty-wetting reflects the big names who are pointing fingers – the New York Times calling for a Nobel Peace Prize, assorted world politicians, ex-Governor Chris Patten and, not least, Jerome Cohen. The turnout of protestors yesterday adds to the pressure.
It is difficult (as in 'impossible and unnecessary') to feel sorry for Hong Kong officials, but this is not their doing. The orders came down from the Party Paranoia Cave in Beijing. Hong Kong's longstanding tolerance and leniency (for example, over oath-taking) suddenly gave way to obsessive persecution. After an unseemly delay, the activists' original unremarkable sentences arising from 2014 had to be made much tougher.
There's more to come. The Communist Party does not do self-restraint and subtlety when it comes to crushing opposition. If this was Xinjiang, they would be shaving beards off – but it's Hong Kong, so the next step is to come for the likes of Benny Tai on bizarre public nuisance or incitement charges.
The United Front will turn up the volume on its media/shoe-shiners/loyalist cheer-leading machine (some people must need that paycheck so badly). Moderates in the pro-government camp will need to keep their heads down, or join co-opted pro-dem Ronny Tong in his slippery-flexible-vanishing-spine act. Local officials will have to sweat and pretend this isn't perverse – or, should we say, political.
(A couple of relevant SCMP columns mysteriously buried deep down in the website – here and here.)