My Typhoon Hato war-story from yesterday involved a fearless early-morning struggle against driving wind along streets ankle-deep in torrents of water. The 200-yard trip to the local Circle K yielded sufficient emergency liquid supplies to enable me to spend the rest of the day safely indoors monitoring the mayhem. The most impressive moment was around mid-day, when the whole sky suddenly turned bright, as if someone had switched a strip light on somewhere up in the clouds. Presumably, the eye of the storm (to the south-west) had lined up with the sun.
The storm surge coincided with high tide – resulting in some serious seafront flooding in Lei Yu Mun, Heng Fa Chuen, Tai O and other parts of Hong Kong. Sudden drops in pressure also suck air out of buildings. This creates eerie swooshing sounds in apartments in non-airtight structures, but pops whole windows out of sealed towers like the Hang Seng Bank HQ.
(Pix and videos here, here and here.)
Unlike Hong Kong, Macau actually suffered death and serious breakdown, with people missing and power and water supplies cut off. Geography probably had a part to play, but we can't rule out divine vengeance, especially seeing how casinos and tawdry hotels were badly hit.
Despite having a mountain to one side, and being surrounded by high-rises, my own area experienced some havoc. The neighbourhood tree was uprooted and thrust onto the lane below the steps…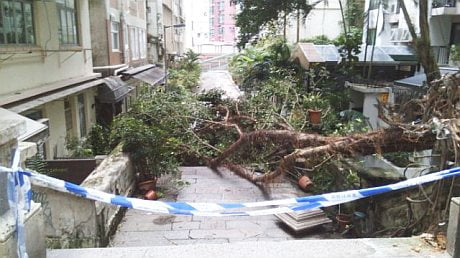 Police swiftly taped off the disaster zone. Both two-footed and four-footed residents are in shock this morning, finding the usual route to the Mid-Levels Escalator cut off.
I should know what the magnificent specimen was (a banyan?), or what has happened to all the birds that lived in it. The preservationists will also be mourning the damage to the old wall – which is probably the city's only remaining example of late Tudor brickwork, or something.