Taking a while to fully recover from jetlag after the grand filial piety tour – not helped by a traumatic experience mid-journey at Heathrow Airport…
I have landed from the US and met up with someone on a separate but coinciding itinerary as previously arranged – an amazing feat in itself, given the number of different airlines, departure points, terminals, and computer/terrorist horrors that could have screwed up the plan. We are about to buy bus tickets for a stay in Stonegallows, England, before resuming our respective travels.
We approach the bus company counter, staffed by a young blonde lady.
"Two open returns to Stonegallows, please."
The young lady, apparently Swedish or Polish (ie polite, hard-working and efficient), clicks on her computer and tells us that it will be 142 pounds please, which sounds a bit pricy to those of us accustomed to CTS cross-border jaunts, but no matter. She then prints out two tickets – one for a pair of people to go, and one for a pair of people to come back.
This won't do. We will be returning to Heathrow on different dates.
Miss Scandaslav gets a bit flustered, and (rather recklessly) seems to hint that this is somehow my fault. I take a deep breath and try to be patient. Maybe in her native language "two open returns" means "two open returns on identical dates in both directions".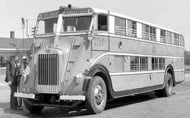 She has to phone her boss to resolve this immensely challenging problem and issue two open return tickets in which the 'return' bits are both actually 'open'. And she warns that there may be an extra re-booking charge and/or a fare adjustment. I give her a vaguely menacing raised eyebrow (in honour of Roger Moore, who had died just the day before). Meanwhile, we stand aside so she can serve other customers.
After some long minutes, her boss calls back with hyper-complex instructions, and she starts clicking and tapping on her calculator and re-printing four tickets, allowing both me and my companion genuinely 'open' returns. She says we must pay a few pounds extra for the re-arrangement. But, before I can leap across the counter and strangle her, she announces that she must now pay us back some money. In fact, the bus company is reimbursing us around 60 pounds, which she counts out and hands over. So I calm down, and thank her.
As we leave, I am tempted to line up and make another change to the tickets – maybe get even more cash back. But we have a bus to catch.
Outside, a few minutes later, we are about to board the bus. And Miss Scandaslav runs up in a panic. She thrusts a clipboard forward and pleads with me to sign a form to acknowledge receipt of the reimbursed money.
Obviously, none of it is her fault. But whoever decides fare structures at that bus company is deranged, and trying to make the employees and customers equally so.