According to the South China Morning Post, the final candidates' debate in Hong Kong's Chief Executive pseudo-election was a 'bruising mix of sarcasm, humour and outright attack'. And indeed all three participants – Beijing's pre-arranged winner Carrie Lam and no-hopers John Tsang and Woo Kwok-hing – did produce some reasonably decent venom and spite.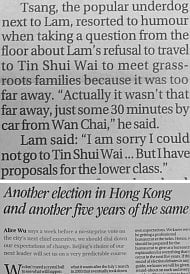 But, although the event was open to all 1,194 Election Committee members, only some 500 turned up – including most of the 300-odd pro-democrats who managed to get onto the rubber-stamp body. This suggests that most loyalists among the Chinese Communist Party's inbuilt majority on the Committee saw no point in attending when the result has already been decided. Some were also possibly reluctant to identify themselves too closely with the unpopular Carrie.
Carrie spent the weekend working on her image as aloof and out-of-touch – cancelling an already-postponed visit to the stereotypically poor neighbourhood of Tin Shui Wai, on the grounds that she was tired and it was a long way to go. While obviously evidence of her extreme unsuitability as a politician, it also reflects the fact that the people of Hong Kong are irrelevant to this process. And that includes the 1,194 EC voters, who are simply role-playing in a charade.

Franklin Lam, a tourism/property freak and early supporter five years ago of now-incumbent CY Leung, writes a pointed criticism of popular underdog John Tsang (in the pro-Beijing shoe-shiner-owned Sing Tao/Standard). He blasts Tsang for mishandling the city's finances, pointing out that we could have bought all the housing and health services we could possibly need with just a fraction of the wealth the government acquired and hoarded in the last nine years.
It is a fair criticism. But where were Carrie Lam (as Chief Secretary), Carrie apologist Henry Tang (former Chief Secretary) or CY (as CE) and his predecessor Donald Tsang all that time? Despite the differences in terms of public image, Carrie and John would be identical as Chief Executive – administrators fixated on micro-scale problem-solving, with no ability to see a bigger picture. Transformational leadership is not on the agenda.
John's idea of food trucks as a serious policy initiative is an amusing example. Carrie's entire manifesto is devoid of any hint of reform. She proposes allowing lower floors of industrial buildings to be re-zoned for other commercial use, to free up affordable space for start-ups. Note the narrowness of vision: zeroing in on start-ups (why not all businesses?) and tweaking ancient rules on building-use rather than asking why we still have an 'industrial' classification.
John is having fun as a candidate, partly because he has a groovier personality, but mainly because he's safe in the knowledge he won't get the job. Carrie is clearly not having fun. She obviously hates this fake campaign-thing, and is dreading the five years to come. There is no spark, no excitement, no enthusiasm, and no optimism.