The Standard treats its readers to an entire page of shoe-shining…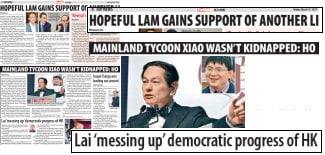 It reports one wanton act of obsequiousness as a straight story: tycoon Li Ka-shing's son Richard publicly endorses Beijing's choice Carrie Lam as next Chief Executive of Hong Kong.
It then takes putrid groveling onto a higher dimension with a report purely designed to shoe-shine a shoe-shiner who is shoe-shining. Make that two reports! The newspaper writes that its owner Charles Ho denies that Mainland billionaire Xiao Jianhua was kidnapped by Chinese agents at the Four Seasons in January. And it covers Ho's blasting of pro-democracy publisher Jimmy Lai for 'messing up' Hong Kong democracy (in an exquisite touch, he calls Lai 'shameless').
The occasion was the Leader of the Year Awards, which seems to be Ho's annual mutual-creepy-crawling orgy for Hong Kong's elite of inherited wealth and bumptious bureaucrats – as perfectly illustrated in this charming picture from last year's ceremony.
We need collective nouns for shoe-shiners and their oily works – 'a cringe of kowtowers', perhaps, or 'a vomit of sycophancy'.
I declare the weekend open with a bit of light reading. The Alex team once came up with a witty pun about how China's capital is peaking. Well, now it is. A Marketwatch column summarizes the situation neatly. There's some more here. We have reached Peak Panda. Whether the 'miracle' (actually a recovery from extreme mayhem and policy incompetence) ends smoothly or more chaotically, it will wipe the odious, gooey smarm off the faces of our local Communist Party toadies.