It seems Hong Kong is not alone in suffering the Einkaufstourist – or locust – plague:
'…they make Konstanz's multiple branches of the DM toiletries chain absolute hell, lining up a half-dozen deep, their shopping carts overflowing with organic toothpaste, name-brand diapers, and pomegranate-scented conditioner.'
Welcome to Sheung Shui-on-the-Rhine. (What – no milk powder?)
A related infestation is the Great Escalator Selfie-stick Menace…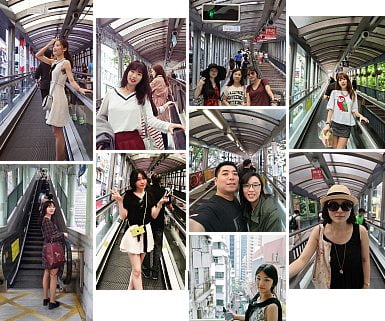 Commuters and other legitimate users of the unnecessarily overcrowded neighbourhood public-transport system are today asking the same question: Your President has finally been impeached – will you all now go away?
Malaysians fearing an inundation are probably breathing a sigh of relief on hearing that Chinese developer Country Garden is suspending sales of its gargantuan and (presumably) ultra-tacky Dubai-with-jungle reclamation/residential/colonization project, Forest City. It would/will be interesting to know whether this is really a (desperate) capital-flight-clampdown, the collapse of an over-extended, hyped-up white elephant, or a sign that the concrete-box-buying frenzy has its limits. The company is using the old 'office renovation' excuse – 'we had a sudden fit of good taste' would be more convincing.
I declare the weekend open with Eerily Creepy Nighttime Photo (with Enigmatic Use of Proverb) of the Month, spotted near the Botanical Gardens…