Pass the air-motion discomfort receptacle! Putrid Crawly Creepo-Grovel Shoe-shine of the Day Award goes to this. Eeeeewwwww…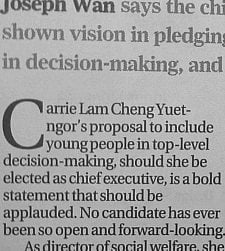 Hong Kong Chief Executive-in-waiting Carrie Lam's platform is essentially 'Same as before, but with more committees'. More 'shortage of land', pricier homes, higher rents, cram-more-tourists-in, and all the other policies that are slowly killing the city.
One exquisite recent example of official idiocy-malevolence in practice is the inane Pilot Tourism Initiative Themed Food Truck Project Concept Scheme. Essentially, the bureaucrats decreed that food trucks could (after a two-part selection mechanism) operate on the strict conditions that: only big corporate investors could take part; trucks must stay in fixed locations; the fixed locations must be remote from existing food outlets and customers; and truck-design, fees and other overheads must make profit impossible in any case. The idea was so dumb it made the NY Times.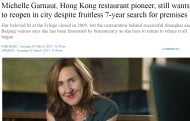 Restaurant superstar Michelle Garnaut describes the bureaucratic nightmare involved in setting up a place at the Central Police Station heritage site, due to open in the third quarter of 2046. She gave up, lamenting that the system is 'geared towards the super rich and too bad for anybody else' (and she does not exactly run HK$20-a-bowl noodle joints).
A couple of land-related links for anyone who missed them.
EJ Insight ponders scrapping Disneyland for affordable homes. It is an old (and obvious) idea among us free-thinkers, but still too radical and counter-intuitive for much of mainstream polite society, or even the slightly quirky EJ – so this is a Good Thing.
And Asia Sentinel looks at the Hong Kong government's measures to curb rising home prices. The measures have largely dried up the market for existing apartments, and pushed buyers to the developers selling yet-to-be-completed brand new units, prices of which are up 50% since this administration took over in 2012. Question: is this grotesque outcome an unintended consequence of the policy put together by highly qualified, exceptionally paid genius bureaucrats, or was it deliberate? The ever-charitable Asia Sentinel leans to the 'overpaid retard bureaucrat' explanation. You may or may not agree.