Unless it is Apple Daily or an independent online channel unrecognized by officialdom, a Hong Kong news outlet is a pro-establishment news outlet. It will be owned by a businessman with commercial interests locally and, more to the point, in Mainland China. Usually, the tycoon concerned acquired the organ in order to ingratiate himself with the Chinese Communist Party, by ensuring the journalism is sometimes, or frequently, in line with Beijing's views.
The amateur press baron faces a challenge. The paper or station can't churn out totally biased gibberish without losing staff and audience-share and becoming a pointless Communist propaganda sheet like Wen Wei Po. Even so, it will probably be a financial burden. And it can be a social/political headache, as the plutocrat worries whether the editorial stance is sufficiently obsequious, to the right person, at the right time, sometimes with unhappy results (as at Ming Pao).
The South China Morning Post today is owned by Mainland e-commerce titan Jack Ma. Ma is closely linked with China's ruling elite, and the paper seems in some ways more editorially secure and relaxed than under its previous proprietor Robert Kuok, whose panicky eagerness to panda-kowtow led to some hideously hagiographic coverage of China's repulsive leaders. (Embarrassingly glowing reports on Ma himself are a regular feature – presumably at the behest of a minder with a misplaced sense of loyalty.)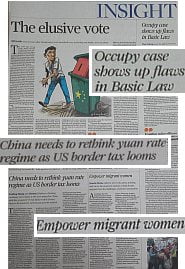 The spin under Ma is relatively subtle and ambitious. The idea is to boost China's soft power – 'normalizing' the nation and its regime by building an image of a Great Power reforming its economy, assuming international responsibilities and implicitly proving through its success that Western ideas about democracy and human rights are wrong. It is a picture in which corruption and pollution are being fixed, Taiwan is an irritant, and a 6.5% GDP growth rate is a real thing. The Hong Kong political coverage follows suit, with the quasi-election presented as a genuine race, and localist kids treated as the cause rather than effect of problems.
Opinion pieces vary from hackneyed democracy-bashing to informed or stimulating comment – especially in the Business section. The editors seem to have an especially hard time filling the op-ed page. Apparently, the paper doesn't pay for this content, so it is perhaps surprising that it has anything to print at all.
Today's is fairly typical. The main column wonders earnestly why, after installing three failed administrations, China's vicious and control-obsessed one-party dictatorship doesn't allow Hong Kong to freely elect its own government. Another proposes that the same megalomaniac regime might care to sacrifice its grip on power by letting international markets set the value of its currency. A third implores us to empower migrant women (way too worthy to read – but go for it).
Then there's this Chinese legal wacko freak insisting that Hong Kong cops beating up an arrested man are performing their duty, and their conviction for committing a crime is a sign that the Basic Law is wrong.
The initial comments on Twitter and elsewhere yesterday condemned the SCMP for crossing a line by publishing this article and going beyond a pro-Beijing agenda into pushing a frightening, totalitarian hell. My short point (now I've finally got to it) is that the paper is surely innocent here in publishing this piece: even Apple Daily couldn't do more damage to the Communist Party's name and reputation in Hong Kong if it tried.