The Chinese Communist Party's inability to be even vaguely pleasant is one of life's great mysteries, at least to some of us. The South China Morning Post's political editor certainly finds it a puzzle. Why, he asks today, has Beijing blown its recent chance – after ditching unpopular Chief Executive CY Leung – to behave in a decent, constructive, friendly way towards Hong Kong's alienated younger and educated population?
Instead, the one-party state is forcefully and blatantly using the fake-election process to install the dismally unimpressive but obedient Carrie Lam in Leung's place. China's officials are so obsessive and blundering about putting her in office that they are depriving her of any credibility she might otherwise have. They are willfully setting her up to fail as yet another unpopular stooge.
It seems illogical and perverse. The Dalai Lama says that China's leaders do not use the human brain properly, which is probably part of the problem. Specifically, the Chinese Communist Party cannot handle, let alone accept, anything that it cannot absolutely control.
The 'two meetings' in Beijing provide China's officials with another opportunity to whine and rant about Hong Kong people, demanding that they 'focus on the economy', which is longstanding code for 'shut up about bad governance'. Elsewhere in the empire, the masses are happy. Any complaints or unrest are instantly rendered invisible by censorship, secret police or other means – the resulting silence and harmony confirming that the Communist Party is perfect and never makes mistakes. The constant criticism and protests coming out of Hong Kong are an intolerable affront.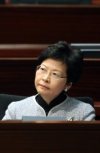 There is only one response. The Communists seem to be assuming that Carrie will go along with CY Leung's psychopathic, United Front, mouth-frothing, berserk, crush-the-opposition stuff – but with a softer, feminine touch, so we don't notice or mind.
The Chinese Communist Party cannot handle a pluralistic society. Carrie is presumably supposed to put a gentle face on the regime's struggle against 'opposition' and discontent. In other words, she is supposed to put a gentle face on the ongoing witch-hunt against elected pro-democracy lawmakers, of whom nine now face various legal actions. She must put a gentle face on the farcical situation whereby Triad-connected sleazebags shoe-shine the Communist Party by trying to donate money to cops convicted of criminal offenses. She is supposed to sugar-coat the co-opted property cartel, the fawning media, and all the rest of this steaming pile of doo-doo – when the lady's core competence is setting up committees.
And it's just another four months to go before we have the 20th Anniversary of Being Governed by Malevolent Ghouls Who Hate This City, complete with Xi 'Mr Empathy' Jinping and his touchy-feely military parade. Fun for all.
It has been drawn to my attention that the Wikipedia page for 'Hong Kong Chief Executive' features (as of 10am Mar 7 2017) some sort of mistake…