Winter Solstice heralds the pre-'two-long-weekends-in-a-row' wind-down and the Great 10-Day Hibernation. Hong Kong unites in wishing CY Leung an especially joyous final Christmas as Chief Executive. Our leader was up in Beijing yesterday getting his 'Last Duty Visit' kick in the teeth in true Communist Party-style – insincere 'praise' more rancid than recycled Mainland gutter oil.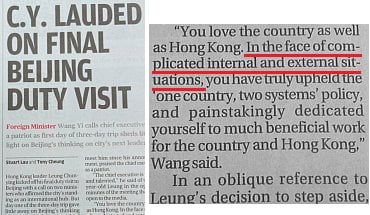 According to the South China Morning Post, Foreign Minister Wang Yi conceded that CY in office faced 'complicated internal and external situations'. The word 'complicated' is the nearest Communists get to saying 'we really screwed up there'. Maybe this will help add a little cheer at the Leung family holiday gathering. Perhaps they will also draw some comfort from the fact that, while CY has been the most hated CE since the 1997 handover, the others were also widely loathed, if not quite as much. And – while we're looking on the bright side – each CE leaves office more detested than his predecessor, so in the long run he may not seem quite as wretchedly disastrous, relatively. In 15 years' time, we will be looking back almost fondly and saying, 'Wow – remember when we thought CY Leung was bad?'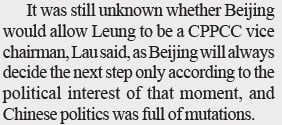 A glimmer of hope for 2017 comes in the SCMP's Lifestyle section. Not usual reading material, but I can't resist the headline 'Not enough bankers: overpriced crap restaurants struggle to make 'overpriced crap restaurant' model work'.
The paper examines a place called Picnic on Forbes (which sounds like you get a sandwich presented on a Gordon Chang article – pretty cool concept if you get the pricing right). The owner is trying to attract customers with live jazz, an appearance by a Parisian butcher, and a revamped brunch menu. (If it were me, I'd attract customers by removing the live jazz and the Parisian butcher, but what do I know?)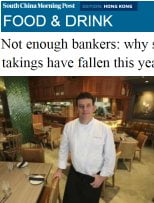 We are left wondering if this will work. And we fear it will not, as the SCMP writer, overcome with seasonal goodwill, lapses into advertorial-mode, plugging the aforementioned brunch menu, referring to the hefty price as 'reasonable' with no quote or source to verify it, and laboriously translating 'poulet frites' into English, as you would if you wanted to attract the sort of unworldly riffraff the owner did not originally have in mind.
Not far from Picnic on Forbes in Western (indeed, all over Hong Kong if you know where to look) restaurants thrive despite (or maybe because of) Not enough bankers. The fare is more likely to be Vietnam, Shandong or Malaysian, the décor more Formica, the prices around a third – the food amazing. So long as the Michelin pests don't discover them…
Another sign for a saner 2017 comes in the suitably down-to-earth form of a bus going past a window in Central. It is not advertising skin-mutilating 'serum' beauty products, pop-star tutorial centres, a new luxury real-estate development, mind-numbing vacations in the Maldives, or diamond and gold watches. Just plain, humble, utilitarian Scotch Tape…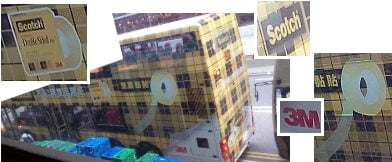 Hope that Hong Kong can be held together?