Fragrant and elegant former Chief Secretary Anson Chan gives the Hong Kong public the benefit of her wisdom on the subject of next Chief Executive. Financial Secretary John Tsang, she says, ticks all the right boxes in terms of dedication to the community's core values, law and rights and freedoms. She goes on to accuse current Chief Secretary Carrie Lam of too-readily assuring Beijing of her continued adherence to CY Leung Thought and the recent Leninist-psychopath assault on the city. (Dame Conscience briefly dismisses third and ultra-desperate wannabe Regina Ip for much the same reason.)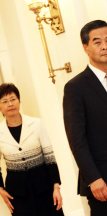 This might confirm what many right-thinking people feel. However, it is not as simple as 'John is nice, Carrie is nasty'.
To be sure, John looks appealing to Hong Kong's anti-Communist decadent bourgeois and radical youth: growing up in the US, assisting last Governor Chris Patten, enjoying coffee, French cinema and 'local' (non-Mainland) culture. Carrie, meanwhile, looks scary – having loyally served CY Leung and the Liaison Office on the political non-reform package, the purge of loyalists and other ideological campaigns.
However, there are more dimensions to it.
John is widely viewed as laid-back and uninterested in difficult changes, while Carrie has a no-nonsense reputation for getting things done. So, although John is supposed to have a magical ability to unite the community and restore harmony, he would not fix the serious economic and structural problems that create much of discontent and anger in the first place. Carrie, on the other hand, might upset and irritate everyone by overriding opposition, but she might actually improve the housing and welfare side of things in the process – and calm this restless corner of the empire.
It gets murky. Among John's biggest supporters behind the scenes are the same people who backed Henry Tang in 2012 – including, of course, the property tycoons. There may be an element of revenge in this; indeed it could even be personal, as Carrie was Development Secretary, thus in charge of the Buildings Dept, which enforces laws against… illegal basements. There will definitely be an element of self-interest.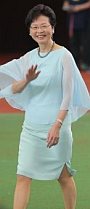 And murkier still. The word is that Carrie Lam is hugely, massively, stunningly unpopular with the top-ranking civil servants for being pushy, demanding, 'my way or the highway' and generally a pain. They would much prefer laid-back John (and indeed many would rather have CY Leung, who doesn't know the inner workings of the bureaucracy).
The smug, pompous senior civil servants are – along with property tycoons (and public housing tenants, Heung Yee Kuk and private car-drivers) – the most arrogant and entitled interest group in the city. Their longstanding resistance to change in land, education, welfare, the lot goes beyond mere laziness or hypocrisy into the realms of group culture, identity and sense of self-worth. They detest and fear Carrie for the stiletto-heeled jack-booted stomping she has in store for them.
Beijing will no doubt have a big hang-up about John Tsang's Westernized and nativist baggage, anyway. But if it's any consolation if/when Beijing openly picks her, think of Carrie Lam's enemies.