On Sunday, members or representatives of various professional, social, cultural and other groups will be able to vote in Hong Kong's exciting 2016 Election Committee Subsector Ordinary Elections. Participants in these 'ordinary' elections will select a pretty-much-largely-rigged portion of the Election Committee; the non-'ordinary' part of the exercise appoints the massively-utterly-rigged portion (such as delegates to rubber-stamp national political bodies). The total Election Committee will comprise 1,200 (minus any deceased or purged) people, who will take part in the make-believe election next March that confirms Beijing's choice of Chief Executive.
Among the patriotic and shoe-shining castes, voting in – or running for – these EC Subsector (and, yes, Sub-subsector) elections is a more-or-less serious business. Some consider themselves flattered to be among the 200,000 or so electors (some of whom are humans, others being corporate bodies). Many pro-democrats, on the other hand,  have traditionally treated the charade with disdain. But some are putting effort into winning EC seats this time round, on the off-chance they can have some sort of meaningful or at least symbolic effect on the outcome (for example, by depriving Beijing's anointed one of votes, to make a point). Beijing's local agents are micro-managing loyalist campaigns and voting at sub-sub-subsector level accordingly.
Anyone unfortunate enough to be involved will have received a pile of instructions designed to lend the occasion a veneer of legitimacy…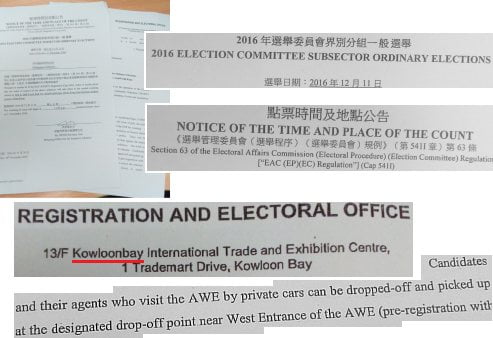 One interesting point: the relevant organ's English-language address on the covering letter refers to 'Kowloonbay'. Presumably a typo, though it could be an example of creeping Mainlandization – in line with Pinyin usage ('Beijing' rather than 'Bei Jing', or in this case 'Jiulongwan').

The materials contain extensive advice for wretches attending the vote-counting. This takes place at AsiaWorld-Expo out at the airport – which is appropriate: this will be the most vacuous and trivial pap-filled performance at the venue since Coldplay's concert. The info-package presumes, not without good reason, that those attending the vote-count will probably come by chauffeur-driven car.
The whole EC-formation exercise – like the CE 'election' itself in March – will have no impact on who becomes the next Chief Executive. So far we have a joke 'candidate' in the form of Justice Woo (whose support of the 'small house' policy suggests New Territories mafia interests are using him to pressure Beijing). Ex-Security Secretary Regina Ip is in the midst of an embarrassingly desperate last-ditch attempt to reach the pinnacle in her career. Financial Secretary John Tsang was left looking stupid after his not-talking-to-naughty-lawmakers episode last week, which looks like a classic Liaison Office-invented stitch-up.
Pro-Beijing elder statesman Tsang Yok-sing is openly admitting that Beijing will be stage-managing everything from now on – including which loyalist(s) get(s) on the ballot, and of course who wins.
It is hard to imagine that the Chinese Communist Party's top leaders will pick incumbent CY Leung – but impossible to imagine that they won't.
On which cheerful note, I declare the weekend open.