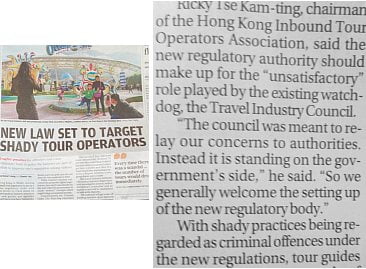 The Hong Kong government plans new legislation and regulation to clamp down on 'forced shopping' and other abuses of inbound tour groups.
For years, tourist agency scumbag-lowlifes working on commission have been ripping off down-market Mainland tourists by trapping them in stores, bullying them to buy overpriced garbage, abandoning them on the streets and other desperate measures up to and including the death of a hapless visitor.
The Mainlanders concerned were gullible, signing up to improbably cheap packages. And few right-thinking Hongkongers cared greatly that the city's reputation was being damaged – the fewer tourists the better.
But still – why did the government take so long to act?
After all, Hong Kong officials would have us believe that Mainland tourists are the Most Important Life-Form in the Solar System, to whom all mere riffraff residents must bow. Furthermore, the intimidation and exploitation of these visitors made headlines over the border-boundary. To 1.3 billion Glorious Motherland Compatriots, Hong Kong's treatment of tourists is another example of the city's treachery, on a par with the Umbrella Movement or voting for localists.
We can suspect that the Hong Kong government found itself in its greatest ever quandary on this issue. On the one hand, as well as suggesting improper attitudes to Motherland kith and kin, imprisoning and cheating innocent Mainlanders is criminal, immoral and evil, and bound to undermine the city's image and the tourism industry itself in the long run. On the other hand, landlords made big bucks out of it.
An almost-impossible circle to square – I'm surprised it's taken only 10 years to make a decision.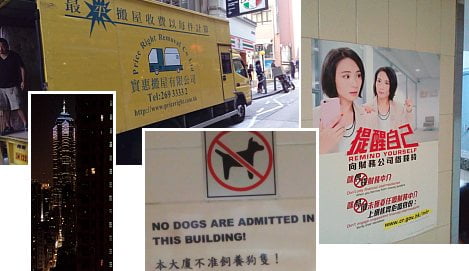 The Big Move turns out to be relatively pain-free, in a hyper-stressful-upheaval-and-chaos sort of way. The new place is going to be a bit of a culture-shock: it has a security guard, and he puts up creepy government posters on the walls. Also, a nice view of the bright lights at night.
In the anarchic old walk-up down the hill, dogs were rare – a winter-time treat for the more traditional residents who liked the delicacy braised with black bean sauce. The new authoritarian building regime simply bans the beasts outright, as hotels do with durians.