Hong Kong's favourite feline, Brother Cream, passes away – and, predictably, the Chinese Yuan promptly crashes 10%…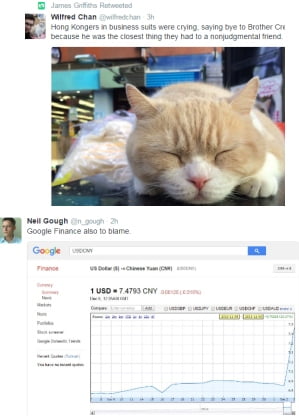 Also, Hillary Clinton runs a child-abuse ring out of a pizza place in DC. Then it turns out she doesn't. Then, after the chattering classes suspect revenge for Trump's phone call with Tsai rather than shock at the death of the cat, it appears the Renminbi is fine and didn't crash. Perhaps Brother Cream will be spotted alive, at Graceland.
Meanwhile, Chief Executive CY Leung displays his strategic leadership skills by rather elegantly stitching up Financial Secretary John Tsang, leaving his wannabe rival looking like a nasty brute who is unreasonable to those nice radical lawmakers we mature members of the executive branch must cooperate with. OK.