Nearly everyone struggles to get their heads around Donald Trump's unlawful telephonic intercourse with Taiwan President Tsai Ing-wen.
Beijing is projecting its own wishful thinking by publicly dismissing the call as a trick by the Taiwanese spinster/cat-lover and fellow splittists, with Trump as the naïve victim. The Communist regime thus assures itself that its 'one China' formula remains intact as the international consensus that downgrades Taiwan to a region (at least if you interpret it that way).
The really telling reaction, however, is from US/Western (liberal/'elite') mainstream or establishment or whatever commentators. To them, it seems to be a mark of insider-ish sophistication to accept Beijing's definitions and preconceptions as reasonable. It's an Orientalist 'inscrutable-Chinese' thing. Hence the unquestioned assumption among Western media and officials that Taiwan somehow causes the cross-Straits problem and disturbs US-China relations by being democratic and free. (For more on this, see here and here.)
Since Trump is flaky and unpredictable, it is natural for the Western-based chattering classes to see his conversation with Tsai as a stupid error. Their immediate reaction was essentially their own version of Beijing's – that the call was a trick by Trump's extremist advisors who are too dimwitted to understand the importance of mollycoddling the Panda and never hurting its feelings. The latest from cutting-edge trendy insider-ish sophistication is now that the Trump-Tsai call was a calculated move.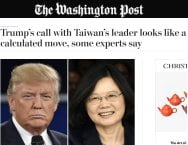 Things are perhaps clearer to those of us who live up-close to Beijing's klepto-thugocracy and see the insecurity, paranoia and economic vulnerability behind the mighty, confident emerging-superpower act. It is not too worrying or far-fetched that a Trump administration might start calling China out on its mercantilism, protectionism and use of overseas corporate acquisitions as extension of state power. (Perhaps the insider-ish sophistication types will revisit their bizarre vision of China miraculously assuming the US's role in promoting a free-trade, rules-based international economic order.) But the idea that the US will start pushing Beijing around for its regional bullying and aggression, let alone viciousness towards domestic dissent, is: unlikely; or perhaps too good to be true; or simply too flaky-and-unpredictable scary to think about.
One helpful lesson from this, however, is how much Beijing relies on people overseas not questioning its (self-centred, arrogant, entitled, We-decide-who-meets-the-Dalai Lama) worldview. As Hong Kong's localists have found out, it's surprisingly easy to mess with the supposedly fearsome and confident Communist leaders' minds. Since Trump does it somehow or other to everyone else, he probably won't spare them.