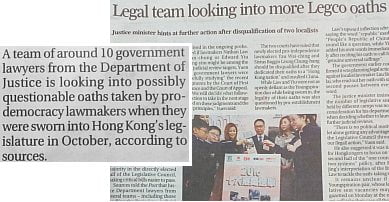 During several days while I was waist-deep in the pre-removal sorting of household junk, the rectification of Hong Kong continued in all its classic Leninist subtlety.  Three stories summarize the gloomy outlook.
The government appears to be seriously planning to purge as many radical oath-distorting Legislative Council members as it can. Officials are being suspiciously blatant, even leaking details of the number of lawyers involved. So this could be their idea of managing expectations – a show to frighten the remaining pan-dem monkeys after the killing of two or three localist chickens, or simply to impress the overseers from Beijing.
If the government really does sweep eight or a dozen lawmakers out of office, it is steering Hong Kong towards potentially deep trouble. Many assume that the government aims to use an even-less-representative legislature to rubber-stamp Article 23 national security laws into being. But this is missing the point – Beijing already can and will kidnap and abduct people off Hong Kong's streets to protect 'national security'. The big picture is a significant decline in the already weak roles of the legislature and the election system (and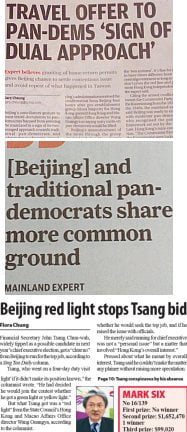 possibly the courts). And of course that diminishes the government's already laughable legitimacy. Hong Kong's style and method of rule could end up more 'colonial' in terms of intolerant, top-down control than at any time since the late 1960s.
Meanwhile, the Chinese Communist Party's most cunning, scheming, profound micro-managing United Front brains have contrived an ingenious method to consolidate the Hong Kong government's power base at this difficult time – give traditional moderate pan-democrats the right to cross the border and visit what is supposed to be their own country anyway. Delighted and flattered, the mainstream pan-dems and public opinion will obediently line up to kowtow to Beijing and reject the evil separatists. By way of icing on the cake, the aging idealists will enjoy many trips to the Mainland, where they will learn the truth about the wonders and benefits of the Communist one-party system. Yup.
Lastly, the latest gossip insists that Beijing has told Financial Secretary John Tsang to forget about being Chief Executive. If Tsang showed signs of original policy vision, we might lament this as a lost chance for Hong Kong to reform its distorted and crony-ridden economic structure. As it is, we can only mourn for the fact that the affable bureaucrat would not have embraced ever-more oppression to crush Hong Kong's pluralistic spirit. That, in a second term for CY Leung, is the default scenario – as is greater discord and resistance.