…a medley of extemporanea. And it continues today with news to cheer the heart of the most morose and depressed Hongkonger: a calamitous plunge in the number of tourist arrivals…
(The article refers to something called 'National Day' holiday – tucked away out of sight on this coming Saturday in Hong Kong, but apparently a big week-long excitement in the Mainland.)
This is a fairly frequent story. The pro-tourism landlord-bureaucrat complex likes to spread alarm at the slightest sign that the swarms of suitcase-draggers and selfie-stick zombies might undergo any, even microscopic, decline. We are still talking of dozens of millions of visitors in excess of the city's capacity per year, and we are still waiting to see serious numbers of gold and watch shops' owners starve to death on the streets. But the 9.4% drop reported here raises the delightful prospect of more 'dashed hopes' for this most disruptive of our cherished parasite-industries.
One problem is an entire bureaucracy dedicated to cramming more tourists in as fast as local resistance and market forces can get rid of them. It is because of them that we have such inanities as 'Formula E' – something to do with car-racing in the middle of Central. We must have 'events' at all costs. Is there anything that might cure the cautious, play-safe, conservative pro-tourism establishment of this obsession with attracting a constant stream of mindless circuses to our overcrowded town? Some sort of aversion therapy to induce them to recoil in horror at the whole idea of hosting 'events'? It just so happens that maybe there is…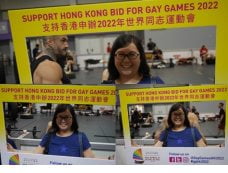 Many, many years ago, some cool and trendy lawyers started a hip new political party. One of its members, Ronny, later started a new grouping called Path to (of?/for?/from?) Democracy, which would attract millions of votes because the time had come for moderate, sensible, middle-of-the-road builders of bridges who would form a mild and acceptable centrist silent-majority bloc between the pro-Beijing slime-bag shoe-shiners and the pro-freedom/law/decency maniacs, although nothing happened because the voters mysteriously failed to materialize. Many of us often ask: whatever happened to Ronny? The Standard's celebrity-property correspondent tells all…

Until you have a space-consuming granddaughter yourself, zipping around the house like a Formula E driver in Central, you have no right to judge.
And just when you thought life couldn't get any better, the Singapore government and Global Times are trolling each other…