After sitting through more of the Clinton-Trump debate, it's impossible to ignore how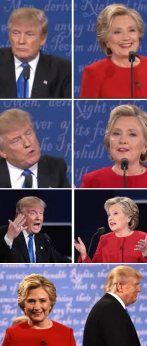 dissimilar and unequal the two are. Usually, you would have one plain everyday slippery politician versus another. Such people are quite possibly cunning, slimy and duplicitous – and certainly egotistical – but the point is that they would both be that way. In this case, only one contender fits that description; the other clearly has some sort of narcissistic personality disorder, which means that he lacks the desire and ability to self-consciously and methodically manipulate a crowd.
Unlike regular slime-bag politicians (and most other humans), people like Trump don't care what others think of them. All that matters is that they themselves are satisfied and convinced about their own superiority over everyone else. The grandiosity, the sneering, the bragging, the incivility, the style-without-substance-or-logic argument and the instant memory-loss over inconvenient facts or comments are all devices to confirm in his own mind that he is superior to all others. Many onlookers may think Trump is an idiot, while those who detest Hillary and what she stands for may think he's entertaining or even a genius – but he has no interest in any of their opinions.
One characteristic of this affliction is a total inability to ignore a perceived slight. Most of us can shrug off (or learn from) criticism; normal slimy politicians must do it constantly. A narcissist-type like Trump simply cannot do this; he cannot let it go, and he must rectify it – however disproportionate it may seem to bystanders – before he can move on. Again, this has nothing to do with persuading other people one way or the other: it is to remove and banish the little bit of grit that is irritating his own ego.
Trump's aides no doubt tried to tame him and get him to act and behave 'normally', which he appeared to do at the start of the debate. But it can't be done. He's not wired to consider, let alone prioritize, others' impressions. Trump can sling mud at Clinton, and maybe make her sweat or obfuscate or switch subjects and perform all the usual politician trickery focused on what the audience is thinking. But she can needle him on even minor details and trigger responses aimed purely at his internal ego that invite ridicule or shock or disbelief among onlookers.
On the subject of asymmetrical conflict, it is the second anniversary of the Umbrella-Occupy events (marked in style today on Devil's Peak, right). The official line after the barricades came down was that the movement had 'failed'. This self-congratulatory gloating has since given way to a situation where a Communist dictatorship trembles in fear of schoolkids.
This thoughtful look back mentions the true failure – Beijing's mishandling of Hong Kong's pluralistic society, leading to alienation of the young (in particular), who are now developing their own, separate identity. China's policymakers have displayed a similar incompetence in Taiwan, where the young also reject, and indeed deny any connection with, the CCP's vision of China.
The more its control-centric policies backfire, the harder Beijing implements them. There is no sign that China's leaders have the wits to detect this pattern, let alone break it. Beijing is losing whole generations, and yet doesn't seem to even realize it – about as narcissistic as it gets.