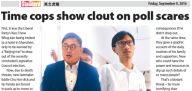 Who can fail to be heartened by the Standard's editorial on the threats against candidate Ken Chow and Legislative Council member-elect Eddie Chu? We can be confident that the Independent Commission Against Corruption and the police will [despite indications that they are now subject to Chinese Communist Party direction] handle the complaints seriously as it gives the agencies the opportunity to prove the public has misunderstood them, and they're as trustworthy as ever.
Such a cheery and uplifting thought puts me in the mood for some good old-fashioned, no-nonsense, full-on, vomit-inducing shoe-shining – like we used to enjoy in the days before Communist Party henchmen and rural mafia thugs ran Legislative Council elections. And the South China Morning Post hosts an exquisite example today, in a full-page ad…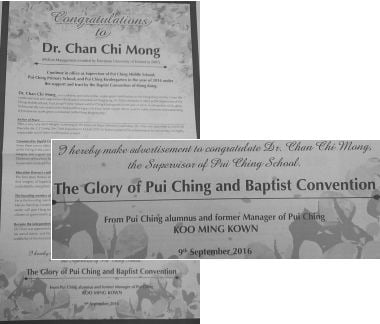 The ad congratulates one Dr Chan Chi Mong on being reappointed big boss at Pui Ching Middle and feeder schools in Kowloon. Which, as we all know, is a highly esteemed, venerable, Baptist, (probably) exclusive/elite, blah-blah, etc educational institution. Alumni include: John Hung (Wheelock, prison), ex-Sir CK Chow, Henry Tang, Simon Peh (of ICAC fame) and Regina Tsang (third place, Miss Hong Kong, 1979).
Normally, this sort of worshipful announcement in a newspaper is signed by a long list of people or bodies all wanting a piece of the grovel-dom. Sometimes – it is distressing to relate – the target of the obsequiousness discreetly initiates the shoe-shining ad himself by getting a go-between to invite sponsors. In this case, one Koo Ming Kown of Pui Ching-connectons is the sole sponsor.
The ad lists the great achievements of the hitherto unheard-of 'celebrity and social pillar'…
It's not proper shoe-shining unless you heap praise upon the recipient for having a fake doctorate – this one from the (wow-I'm-shocked) bogus 'European University of Ireland'.
Another shining sign of attainment among social climbers in Hong Kong is being made a Justice of the Peace. The office is a colonial-era relic, and only a tiny handful of JPs (pro-dem misfits) actually perform any duties – mainly checking conditions in prisons. But people badger and beg incessantly to get themselves or their offspring the meaningless title, which is hardly surprising given that your 'highly respectable social status is affirmed as a result'…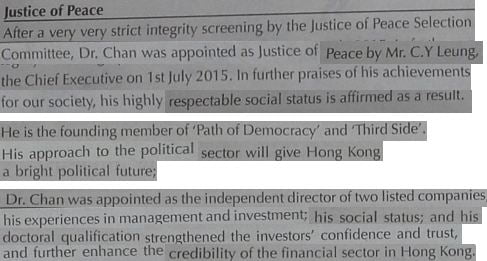 The two political parties mentioned here are in fact rivals – both are ultra-moderate, wannabe-Beijing-friendly splinters of mainstream pro-democracy groups. The fawning congratulations also mention that 'Dr' Chan has Kuomintang links, which explains the absence of the sort of Mainland/United Front stuff we would otherwise expect in local contemporary public sycophancy. (This symbolic distance from the CCP milieu could have something to do with Pui Ching's Christian heritage, but I may be reading too much into it.) He has a seat on an appropriately mind-numbing and inconsequential government body; chances of a Bronze Bauhinia Star are slim, but it's not impossible.
The full-page adulation concludes by saying 'Dr' Chan is a director of two listed companies, and they and the world in general are naturally all the more magnificent for it. The database at webb-site.com names the two (obscure) firms, and helpfully reports their performance since he joined the boards, which happens to be underwhelming. He also appears in the Panama Papers, but who doesn't?
Thus ends our delicious little glimpse at the fine art of puke-making Hong Kong shoe-shining. I declare the weekend open with the reassuring thought that at least some of our city's core values are surviving and in good shape.
Update: It seems Koo hates Chan, and the ad may be parody. or actual sarcasm. In which case this is a major breakthrough in high-society bitchiness.