…it's because the inundation of inanities that usually heralds the weekend has come early.
Apple unveils the iPhone 23, or whatever number they're up to. The big selling point is that you can't plug headphones into it. The interesting thing about people who walk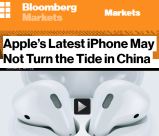 around with headphones on is that they can't hear everyone else's rude comments about how absurd people look walking around wearing headphones. The new iPhone means that now they can hear these insults – but passers-by will have no need to make them, so it doesn't matter. This is progress.
Bloomberg reports that the Chinese have seen through this farcical Apple fad and will avoid the things in favour of local brands that are cheaper and – minor detail – better in terms of being more useful, even including headphone plugs. More progress. (Perhaps next, Mainlanders will see the light on Yakult?)
This all suggests that traders will not need to hire hundreds of asylum-seekers and maids to wait in line overnight outside the Apple Store at IFC Mall to buy the devices by the dozen for smuggling over the border for sale at a hefty mark-up. You might think this will help make Central a less congested place. You would be wrong.
The South China Morning Post tells us that traffic jams and disruption are 'promised' in Hong Kong's business district as a result of something called Formula E, which sounds like some skin lotion. The passive-voice-prone paper doesn't say who exactly is making this promise, but it leaves readers in no doubt that the person responsible is serious…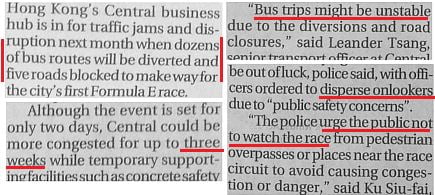 This is the 'promise' Occupy Central never quite honoured. Dozens of bus routes will be screwed up, leaving trips on them 'unstable'. The mess could
last up to three weeks. Weirdest of all, perhaps: although this is supposedly a special and exciting event (some sort of car race, by the way), innocent residents are told not to turn up.
This is going to be like having 20 Zhang Dejiangs visiting town at the same time.
The chief malevolence behind this idiocy appears to be one 'Alan Fang, race organizer'. We might have visions of the bores in silly caps and jackets who can watch cars whizzing round in circles for hours on end – carriers of the same genetic mutation that leads people to enjoy watching golf. But I sense some hidden black hands at work. 'Alan Fang, race organizer' says that the transport disruption and civil liberties infringements are justified 'for the sake of a major event on the harbourfront'. I smell Hong Kong civil servants in this. I smell tourism. Best-case scenario: a fatal pile-up claims the lives of a tolerable number (just double-figures) of spectators (from overseas, obviously), and the Formula E nightmare-extravaganza-shambles relocates to some dump like Shanghai or Dubai where it belongs.
What kind of a sport has a pre-contest 'vote' to give some participants an advantage…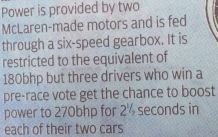 Finally, Henderson Land announces the launch of its latest micro-apartments. The bad news is that they cost HK$22,000 to HK$28,000 a square foot. The good news is that they are so small, you can still afford them. In fact, you can buy several, put them on a table and keep fish in them…