Election day, Tsuen Wan…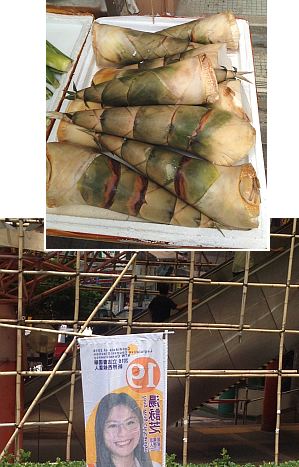 Ever since Hong Kong's Legislative Council started having direct elections for some seats 25 years ago, the Chinese Communist Party's local United Front machine has been active in trying to maximize the pro-Beijing vote. But its coordinating, micro-management and plain interference seem to have been unprecedented this time round – not least through its new behind-the-scenes influence over the city's once-impartial civil-service electoral functions. So the election results should be seen as pre-rigged, with the outcome artificially tilted 5% or 10% or whatever in favour of pro-Beijing candidates.
This translates into a clear 'win' for the pro-democracy camp, in terms of at least maintaining their share of the total vote and keeping veto power in the chamber. Going by the results dribbling in at mid-morning…
There has been a pretty decisive shift away from traditional mainstream and radical pro-democrats to younger localists. This was amplified by pan-dem voters' late-in-the-day acquisition of tactical voting skills, after some of the multitude of their candidates 'dropped out' and asked supporters to back someone else. If anything, pan-dem voters over-compensated and gave unnecessarily large boosts to apparently borderline candidates.
(This voluntary herding presumably contributed to the long queues at certain polling stations in middle-class neighbourhoods late last night. It's tempting to see official voter-suppression at work, but we could be charitable and say it looked too successful to be deliberate.)
This means some of the old guard now fade away. It is hard to lament the loss of, say, the ever-depressing Lee Cheuk-yan – whose morose loyalty to lost causes looked more like abused-spouse syndrome. (Looks like Long Hair might just make it.) Some of the new faces have provocative things to say about land and even heritage issues. The others at least promise to be unpredictable. Will they prove any better than the older generation at unity and discipline?
Although there was an increase in voter turnout, it was pretty minor. It would be good to see a breakdown by age. It may be that the young did not turn out in particularly higher numbers than in the past. The CCP may be thankful for this – though if I were them, I would be worried.
Live updates here.