Good thing or bad thing? The way the world is going, you can argue that the destruction of the planet would be broadly positive – or at least that it's a toss-up. But apparently Asteroid Bennu is not going to smash the Earth into little pieces. And to add to humanity's anguish, the gut-wrenchingly tedious, fatuous, ritualized hype-fest that is the Olympics is about to start, yet again. (I haven't seen an infantile cartoon mascot yet. Maybe the Brazilians can't afford one, or it got shot and dumped in the bay.) All is despair.
But wait! I have discovered a source of solace. On a recent inspection tour of Shenzhen, I saw some little packs of yeast used to make glutinous rice wine soup – a slightly alcoholic sweet rice pudding especially popular in winter. Think of congee you can get (faintly) drunk on.

The method: cook rice, let it cool a bit, add yeast, leave mixture at room temperature in a container for two days, eat.
Or you can do it the interesting way, and leave it for weeks. Over time, the rice starts to shrink and the amount of liquid starts to increase. After (say) a month, you remove the icky mouldy cap that forms on the top of the stuff (it comes away easily with chopsticks), and you squeeze the liquid out through a cheesecloth.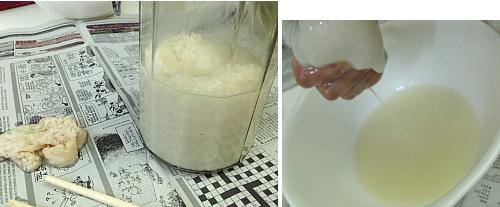 And behold – you have real rice wine. It is thick and gummy, and surprisingly sweet and tasty. Water it down a bit, and you essentially have fresh home-made makgeolli, the cloudy Korean rice beer you can get in 759 stores. Judging by the detectable buzz from a small glass of it on an otherwise booze-free day, I would guess it's roughly 5% or 6% in strength.
Not sure what Hong Kong law says about home brewing, but it would be even more gratifying to think, as we declare the weekend open, that this hooch is illegal.