We never forget you have a choice. China's 'One Belt One Road' visionary mega-concept strategy is as historically amazing as the Marshall Plan, or is a worthless pile of flimflam with nothing in common with the Marshall Plan.
The cheery and optimistic story comes from Bloomberg. It is actually a report on a report, quoting a fund manager in London. The Marshall Plan was about resurrecting the largely destroyed economies of Western Europe after World War II. If that comparison doesn't work for you, the guy also offers an analogy with expansion of the European Union – a group last seen losing its second-largest member-economy.
But it is, naturally, the negative gloom-and-doom story that attracts our interest. This is partly because we just can't resist anything that mocks pretentious BS of any sort, anywhere (but especially, in truth, coming out of Beijing, and even more especially when it's the tiresome 'Belt and Road' claptrap). Even more because it is by esteemed former South China Morning Post columnist Tom Holland. And even even more because it appears in – yes – the SCMP itself.
It was in yesterday's Business section, but the link has mysteriously been buried on the site today (though it stubbornly crops up in the 'Most Popular' box). How exactly did it get there?
'Belt and Road' is currently one of the most venerated idols among Hong Kong's Beijing-worshipping community. Although recently overshadowed by loud and clumsy denunciations* of 'Hong Kong independence', public adoration of 'Belt and Road' is pretty much compulsory among the local business/bureaucrat establishment. The more embarrassing the better: Chief Executive CY Leung devoted his Policy Address to it and is reserving local university places for eager young Kazakhs and Uzbeks, while his tragic rival Regina Ip has set up a weird youth-oriented Maritime Silk Road cult to prove her devotion.
The official line is that 'Belt and Road' offers Hong Kong a range of dazzling opportunities, albeit ones that are never specified. Holland's column does not mention the local perspective, but then it hardly needs to: he demolishes the whole grandiose scheme from the top down.
The SCMP rightly gets criticized for duplicating China Daily, carrying print versions of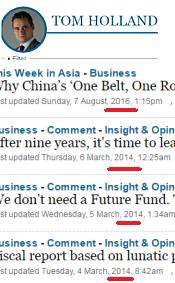 CCTV's forced confessions or the diatribes of quasi-academics claiming Philippine and Vietnamese waters for the glorious motherland (and for puff pieces about its proprietor's other companies). More typically, its opinion pieces ponder bland non-issues or are simply ineffable bilge. It also, at least occasionally, has comment that is independent, provocative and even at odds with the standard pro-Beijing line. But this column is seriously off-message – a barbarian iconoclast trashing what is locally considered an unquestionable, sacred mission to achieve national glory by selling Kazakhs and Uzbeks high-speed trains with which to whizz their yak exports to Venice via Nairobi, and adding further insult by comparing it with some old failed Japanese scheme. Tom's previous column was in March 2014. Not sure how long we will wait for the next one.
*For an example of the standard pro-Beijing line, masochists shouldn't miss that Ho Lok Sang RTHK talk on Hong Kong independence. We can't be independent, he intones, because we have more people than Denmark or New Zealand but less space, and therefore will have no food or clothes. Or water (don't forget the water). This is argument at its most inept – essentially implying that independence is possible except for some minor logistics issues (especially for the globe's textiles-trading hub). But someone decided it should be the official line. The guy is a university professor, by the way.