The neighbourhood is awash in pink this morning. Team Regina – as in lawmaker and ex-Secretary for Security Ip – has turned up. The lady herself, resplendent in tight jeans and tight hairdo, leaps on bleary-eyed commuters as they glide down the Mid-Levels Escalator towards Central. Her legions of eager and smiling assistants hand out leaflets, which people actually read.
Down the hill above Queen's Road, a couple of young women in pale-blue quasi-nurses uniforms are trying to drum up business for a nail salon/foot-massage emporium. I successfully avoid eye contact. Then I look back. Whoops – no, that's Starry Lee of the pro-Beijing DAB. Sorry.
Team Regina is officially the New People's Party, but they seem to downplay the name – perhaps because of its eerie Singaporean feel. The rose-coloured jackets are a similar attempt to wrap a soft, warm and feminine aura around the cold-hearted, iron-fisted monster within (or something).
Even the individuals featured in the leaflet seem to have been carefully selected by some sort of image-management specialists. They are young wholesome types, Judy and Gigi in pastel peach blouses, and Joey, Larry and Marcus in light blue shirts. Marcus, through no fault of his own, bears an unfortunate resemblance to Li Ka-shing's number-two son Richard.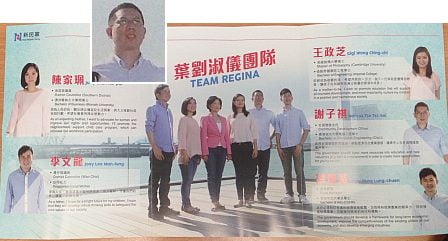 They are portrayed in a row, all gazing meaningfully in the same direction, as if transfixed by a glowing vision of future glory. It's a pose and composition I've seen somewhere before, though I can't quite put my finger on it…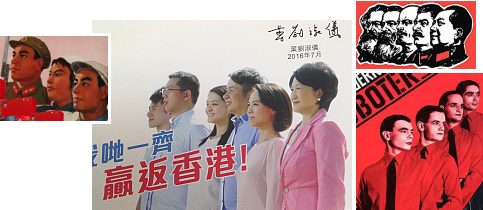 The key phrase is 'Win Back Hong Kong' though she doesn't say who from. As for the substance, Regina summarizes Hong Kong's problems neatly…
But she says nothing about how the city ended up in its current state. More to the point, she offers no ideas about how to even start fixing any of it, which we would expect someone with an intense, burning, planet-size ambition to be Chief Executive to do. Then again, her chances are zilch, so it probably doesn't matter. In fairness, she spares us the usual faux-patriotic, faux-enthusiastic blather about 'One Belt One Road' – another sign, perhaps, that the image consultants paid a visit.
However, makeovers and spin can only do so much to disguise or hide reality. The photo of her with arms crossed, attempting to relax and smile, is genuinely nightmarish…