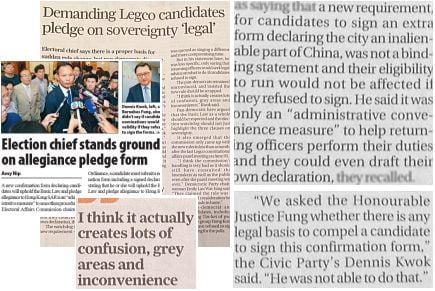 One thing we know for certain about the 'loyalty declaration' newly required (or not) of Legislative Council candidates is that it was not plagiarized from something Michelle Obama once did. Apart from that, it's a confused jumble of indecipherable vagueness that keeps getting more bewildering.
It was sudden – being announced just days before nomination of candidates began. It was carefully considered and thought-through, though you didn't notice.
It was in response to public concerns – 'confusion to electors' – that candidates don't understand the Basic Law, 'particularly Article 1, Article 12 and Article 159 (4)'. It appeared as if from nowhere, and no-one recalls being confused, having asked for something like this, or indeed giving it a moment's thought, ever.
It was legally binding and candidates couldn't run without signing the declaration. It was just an administrative measure and you could be on the ballot even if you didn't sign it.  (Or it would be up to your friendly neighbourhood Returning Officer. Or it wouldn't be. Would you like to draft your own declaration?)
If you signed it, thus acknowledging Hong Kong as an inalienable part of China, and then publicly stated an opposing view, you would face the wrath of some unspecified part of criminal law as a dirty lying pants-on-fire fibber. Or, it went without saying, signing the declaration was purely symbolic and couldn't affect your rights to freedom of speech.
It was just duplicating the existing declaration candidates have always signed before running for election. Or it was just duplicating the oath new lawmakers make when taking office. Or it's something brand new and freaky.
It's a total and utter mess. And on this we have widespread agreement. Even contrary columnist Michael Chugani can't find anything good to say about it.

What's going on?
The whole episode has left Judge Barnabas Fung and his Electoral Affairs Commission looking even more absurd than when they try to ban people from commenting on candidates on Facebook. They said it could not be done! But this is about malevolence, not ineptness. We must look elsewhere.
Clearly, the original intention of this patriotism test was to intimidate people with incorrect 'pro-independence' political views. Clearly, it backfired – being greeted with derision and defiance as even moderate pro-dem candidates vowed not to sign.
The only people in Hong Kong who are this obsessive and paranoid about the 'pro-independence' thing are Beijing's officials in the Liaison Office. They are also the only people in town who think forcing someone to make a public statement against their will – as a book-seller confesses on CCTV – is cool and effective.
It's possible that the Liaison Office's obedient attendant Chief Executive CY Leung acted on his own initiative and ordered the loyalty declaration as a pre-emptive kowtow to his Communist Party minders. But if it was his own idea he would probably have listened to the inevitable doubts of advisers and civil servants. The fact that the government pushed ahead with such a stupid plan suggests that it was fresh from the Liaison Office and not to be questioned.
Within days of its announcement, the loyalty declaration went from being a sinister example of creeping totalitarianism to an incomprehensible mess and laughable fiasco. This can't be an accident. It takes effort, or at least determined omission, to implement a measure this badly. It looks as if someone, somewhere within the bureaucratic system was perfectly happy to let it fail.
Up in Hollywood Road, good news for everyone who wants their coffee made from plant matter rather than, say, pork…