The boy Joshua is found guilty. Amnesty International says the prosecution of the three student leaders for public order offences at the beginning of the 2014 Occupy/Umbrella protests

looks like political intimidation. Law professor Benny Tai, who conceived the pro-democracy sit-ins, is more laid-back; the three were involved in civil disobedience, he said on the radio this morning, which by definition means breaking the law.
These two views are not mutually exclusive. Hong Kong authorities are under pressure from Beijing's Liaison Office to use more Mainland-style, strike-hard, kill-chickens approaches to dealing with opponents and critics. Selective application of vague ordinances is a suitably 'rule by law' method.
We will now see how well the Communist Party's tactics play out in a pluralistic society with a free press. If Joshua Wong, Nathan Law and Alex Chow get prison sentences, the angel-faced pro-democracy martyrs will be all over Time and the BBC, the city's reputation falls yet further, and liberal-minded citizens will have an extra reason to vote against pro-government candidates in September's Legislative Council election. If the kids get a small fine or community service, the charges and the prosecution look stupid. The government 'loses' either way. That's how well this Leninist stuff works in a free society.
But the Liaison Office can't help itself. Another of its brainwaves – the 'loyalty test' for candidates running in September – continues its descent into farce.
In a brave attempt to make the thing seem logical, pro-Beijing lawmaker Tsang Yok-sing argues that if you don't want to recognize Hong Kong as part of China, you shouldn't want to be elected to the city's legislature…

It sounds convincing to the South China Morning Post's editorial writers, who include it in their (nonetheless skeptical) leader on the subject…

It's a lame argument: if you don't like the system, don't take part in it. It's not like there's a choice of Legislative Councils you can run for.
The pan-democrats publicly refuse to sign the suddenly-introduced declaration required of candidates. Typically, no official will (or can?) say what will happen. If the government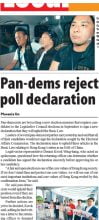 does not allow them onto the ballot, Hong Kong gets more martyrs – namely politicians screened out for their beliefs. A pro-dem voters' boycott of the election could follow. All in Time and the BBC, of course. If the government does let them run, it makes itself a laughing stock. Thanks, Liaison Office.
But wait! There's more! While the mainstream pan-dems are being principled, their wackier fringe comrades are getting mischievous. Localist group Civic Passion members are signing the declaration apparently in order to subsequently disown and contradict it, thus risking arrest for Grand Fibbing – or whatever hilarious response the Hong Kong authorities decide for their next exercise in self-mutilation.
I declare the weekend open with a quandary. Do I give in to months and months of on-line hectoring and pop-up boxes and countdowns, and update my PC to Bill Gates's latest Giant Hairball Windows 10 operating system with totally-different-user-interface-for-no-good-reason in the last few days before the Free!!! offer runs out? Or do I stick with what I know works and suits me fine?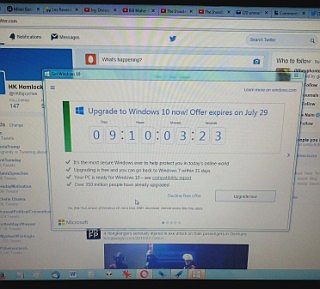 It was a rhetorical question.