Ten years ago, Hong Kong's then-Secretary for Justice delivered a 'keynote speech' to a conference. Attendees probably dozed through the standard cut-and-paste phrases about taken-for-granted rights and freedoms – government officials always recited them on such occasions. Those paying attention would have heard Wong Yan Lung list 'minimum rights of those suspected or accused in criminal cases'…
protection from unreasonable search and seizure

protection from arbitrary arrest or detention

protection from unfair interrogation

protection from irregular trial.
Speaking at the symposium organized by the Independent Commission Against Corruption, Wong went on to say…
…corruption erodes basic public functions.  Places exist where the national wealth … ha[s] been embezzled by the corrupt, and the people in consequence have been left to fend for themselves in often appalling circumstances.  People are clearly deprived of basic rights if corrupt acts diminish the quality of that which is provided to them, or if the pool of available resources is improperly diminished, or if one person enjoys an unfair advantage over another.
People snored through such pleasantries in 2006. But today's Justice Secretary, Rimsky Yuen, or a colleague like Chief Secretary Carrie Lam, would probably shy away from standing up in public and being this specific. In 2016, such pointed comments would awkwardly suggest criticism of the Chinese government's assaults on the city's rule of law.
Read that list of suspect's rights to Lee Bo, snatched (there is no other explanation) from the streets, taken illegally over the border by Chinese security agents and – as with the other book-sellers – deprived of those exact same rights.
Read the description of the evils of corruption to millions of Mainland Chinese victimized by unaccountable power-holders, and to the lawyers and activists persecuted for trying to defend them. Or read it out to Hongkongers wondering what is happening to the ICAC.
The apparent ejection of the ICAC's top investigator is part of a pattern in which China's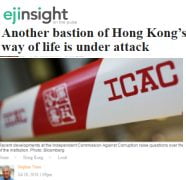 Communist one-party state is taking control of Hong Kong's supposedly independent institutions. This includes: the politicization of government functions like the police, prosecution services and (now) electoral governance; the appointment of stooges onto governing bodies of universities, the police complaints authority and the ICAC; and informal intimidation and smearing of government opponents, and increasingly blatant media bias.
One commentator writes 'none of this is inevitable, nor is it unstoppable'. However, he gives no evidence.
It probably is inevitable. Before the handover, there was a nagging fear that the Chinese Communist Party would not be able to resist clamping down on Hong Kong's pluralism. But the biggest worriers emigrated, and the opinion-formers assured everyone left behind that China would become more like free Hong Kong over time, so the need to resolve the contradiction would ease.
Clearly, under its present leadership, the Communist Party is digging in. Survival of the one-party regime is all that matters. In order to retain absolute control, economic reform will slow, stop or be reversed, and the media, the Internet, NGOs, academia, religions, lawyers and any other possible source of opposition must be shackled. The ruling elite are paranoid about enemies and plots, and Hong Kong, with its tradition of 'impartial' public institutions, is riddled with hiding places for hostile forces. Turning the city's police, universities and media into tools of the government is a matter of basic state security. In a Leninist system, you can't not do it.
The ICAC is clearly no exception. Its independent structure, with deliberate internal separation of powers, allows it to investigate (search, arrest, detain and prosecute) Beijing's appointed and approved Hong Kong government officials or local personnel of state-owned or -linked enterprises. In other words, it can challenge the Chinese regime's monopoly of power – which cannot be allowed. Enough muttering about British infiltration of the ICAC: time to act and bring it into line.
Beijing already has the right to overrule our judiciary and courts, thanks to the mechanism allowing it to 'interpret' the Basic Law to mean anything it wants. But this veto is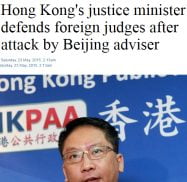 removed and delayed, and in practice Hong Kong courts can, and do, override the Beijing-appointed government. Nothing can stop them from, say, releasing arrested pro-independence agitators on free-speech grounds. A paranoid Communist regime must instinctively see such bodies as a potential source of challenge to state power, and hands-on management of the judicial system (also infiltrated by the British, of course) is logically only a matter of time.
Barring a 'Zhongnanhai Spring' of enlightenment and liberalization, the long-awaited clampdown in Hong Kong does indeed seem 'inevitable'. Whether it is 'unstoppable' is another matter. Can Hong Kong be so stubborn, uncooperative and resistant that Beijing decides it's not worth the trouble?