We keep hearing about a collapse in tourist numbers, an economic slowdown and falling rents. But no-one seems to have told the commercial landlords in my neighbourhood, where the closure of tacky bars and restaurants – and the opening of even nastier ones – continues.

The latest outlet to go is a place called Yorkshire Pudding. It offered British food and televised sports, a combination that sounds like an especially loathsome circle of Hell, but the overweight-white-males-with-shaved-heads demographic seemed to like it. To give an idea of what worse could take its place: just a couple of streets away, a Hooters is going to open.
Although the Soho restaurant investors go to cynical/desperate lengths in devising new themes and concepts with a chance of surviving in this ultra-high-rent environment, you can at least laugh. The Thai tapas with a Scandinavian twist, artisanal hamburgers and Peruvian-ceviche-with-kimchi ideas border on self-parody. Hooters, however, is simply not funny, just gross.
The South China Morning Post goes into almost-investigative and crusading mode in its nicely unsympathetic story on this newest and, surely, ultimate excrescence on Central's dining scene. Even in 1980s US, the waitresses-with-big-boobs thing was infantile. Now, well into the 21st Century, it turns up in the trashy Lan Kwai Fong extension that is upper Wyndham Street – with a 10-year-lease, somehow.
The SCMP reports that a headhunting company with a female client base is fleeing the premises upstairs because, understandably, it can't bear to have 'above Hooters' as its location. And we learn that these low-lifes are even planning to blight poor old Phnom Penh with a branch. To emphasize the sordid/sleaze/icky angle, the paper also extracts a quote from the investor behind Hooters denying that his Thai branch employs ladyboys.
Some demented malevolence opened a Krispy Kreme up the hill a few years ago. When it started offering free samples of the vile donuts to schoolkids, some angry vigilante feng-shui experts went round and put a spell on it. It closed soon after. Rare but glorious proof that HL Mencken was wrong when he said that no-one ever lost money by underestimating the public's taste. I foresee Hooters cursed and collapsing in a similar fashion.
Meanwhile, at the other end of the wholesomeness scale, there's a place called Nood, on Peel Street…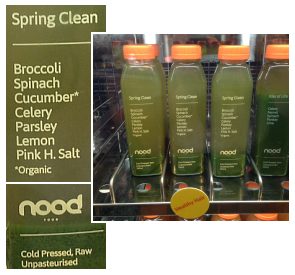 Don't worry – you're not supposed to drink it. This is their special extra-strength colonic-irrigation solvent. But why is only the cucumber 'organic'? And why Pink H. Salt, rather than the regular white no-middle-initial stuff? (Actually, if you dropped the spinach/broccoli and added onion and tomato, you've got a great tabbouleh recipe.)
And on the Escalator that caused all this horrifying gentrification, a man wearing those foot-less tights beneath shorts, like women do…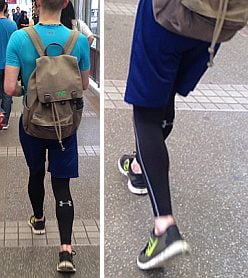 Not being judgmental – just bemused at the sartorial symbolism or functionality, if any. (I'm guessing horrible scars on legs.)