Some participants in the 2016 Celebrity Deathwatch Sweepstakes must be doing well: David Bowie, George Martin, Prince, Morley Safer and Muhammad Ali have all departed, and it's not even mid-year.

Is Asia now due a visit from the grim reaper? Names on the list include the ever-ailing King Bhumibol and former Mainland tyrants like Li Peng and Jiang Zemin. Here in Hong Hong, there's a whole array of aging property tycoons for whom the clock is surely ticking. Hutchison/Cheung Kong's Li Ka-shing, Henderson Land's Lee Shau-kee, New World's Cheng Yu-tong and Sun Hung Kai matriarch Kwong Siu-hing are all in their late 80s or even 90s. (First to go – assuming he hasn't already and squabbling kids are pulling a cadaver-stashed in-attic stunt – must be casino mogul Stanly Ho.)
Over at the South China Morning Post, iconoclastic business columnist Peter Guy skewers the founders of Hong Kong's real-estate cartel-oligarchy, identifying them as the cause of many of the city's social and economic ills. This view is apparently increasingly shared by the Chinese Communist regime, which perhaps now realizes that this local 'elite' it co-opted back in the 1980s play a mainly parasitical and destabilizing role.
This older generation were wily, opportunistic, fortunate in timing, and able to exploit shoe-shining, string-pulling and dirtier ways to influence the government, create monopolies and rip off a whole society and economy. Their offspring, waiting in the wings (or, as with some older ones, already in charge), have no advantages whatsoever. As individuals, they are supercilious, have an overweening sense of entitlement, and possess little or no imagination or intellect generally. Yet their little universe in and around Hong Kong's domestic economy is becoming a hostile environment. In essence, says Peter Guy, they are toast.
Not so long ago, the SCMP was of course owned by another of our old-guard plutocrats – Robert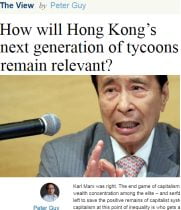 Kuok (who, we may note, is in his 90s). For many years, readers would rarely if ever see a column seriously critical of our local feudal overlords' blood-sucking ways; their empires were valued advertisers, and they were not above threats of legal action. Now the newspaper is owned by a younger/Mainland tycoon in step with Beijing's current thinking, so we can get columns like this (and this one). The medium is the message.
I declare the weekend open with a viewing suggestion: late-80s documentary on the US civil rights movement Eyes on the Prize. The first half-dozen or so episodes cover the main story. Anyone seeking inspiration or lessons for Hong Kong, perhaps with the recent Lancome case in mind, should pay special attention to how consumer boycotts can inflict economic pain and force change.