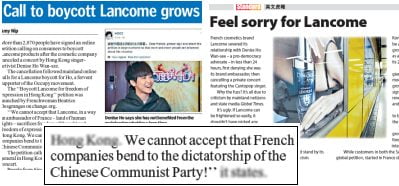 The Standard invites readers to Feel Sorry for Lancome. Lancome, as the whole world now surely knows, is the overpriced-gunge-women-smear-on-their-faces brand that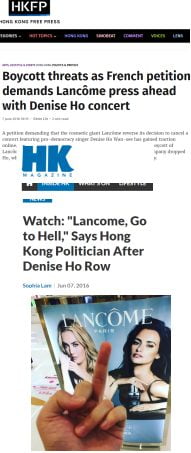 ditched trendy Hong Kong starlet Denise Ho after Chinese state media objected to her pro-democracy/Tibet leanings, prompting a backlash from the non-Mainland public. The predicament the company has put itself in is immensely entertaining to all right-minded people, whose response to the newspaper's pleas will be 'Excuse us while we fall about laughing'.
Denise Ho's activism (thoughtfulness, awareness, conviction and individuality) are what make her trendy enough to warrant the company's sponsorship in the first place. But with luxury brands having over-expanded and saturated the regional market, the Lancome Asia management are presumably under orders from head office in Paris to meet very tough sales targets, and are therefore hyper-focused on the bottom line. So when Communist propagandist mouth-frothers raise the possibility of a Mainland consumer boycott, the local managers freak out.
What is truly amazing about this is the amateurishness of the local Lancome PR. I always assumed these luxury labels, with their hefty profits and heavy investment in image, would have some top-notch corporate-communications voodoo expertise on call. Mais non. The clueless Hong Kong Lancome execs apparently asked the office cleaner to put out a quick and curt press release distinctly lacking in suave sophistication, panache, savoir-faire and much else…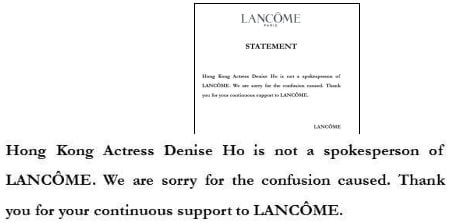 It did convey guilt-stricken panic – not so much fear of having injured the precious feelings of the Chinese people, but terror in the face of head-office wrath and loss of end-year bonuses.
There's a petition going in France, and Hongkongers are gleefully mocking and threatening the cosmetics brand with their customary wit and flair.
This could become a business-school case-study – in reputational risk when a company panders to a supposedly vast but brainwashed/nationalistic Mainland consumer market. Any presence in China requires some tacit potential kowtowing to the Communist regime. By hitching your corporate fortunes to the world's biggest ongoing 'soft power' failure, you gamble your name and standing among the freedom-loving rest of your global customer base. Is it worth it?
And what better crappy, exploitative, space-wasting industry could this happen to?