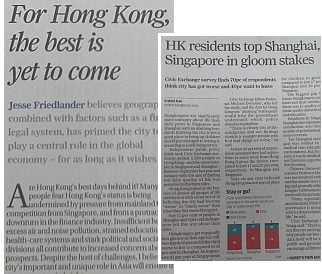 Something to suit all tastes today. Hong Kong is an awful place, and everyone wants to leave. Or it's a fantastic city, and its best days are yet to come.
The negative view comes from a Civic Exchange survey of Hong Kong, Shanghai and Singapore residents on 'urban well-being'. It will be interesting to see exactly what the poll covered.
Singapore has better housing and more green space than Hong Kong, while Shanghai has better dumplings and – presumably – some other features that do not immediately come to mind. Did the survey consider the impact of wage-depressing, space-consuming foreign workers on Singapore's quality of life? Did it include the miserably slow and restricted Internet in Shanghai? Did it adjust for the fact that Shanghainese, like other Mainlanders, are subject to Beijing's slick happy-happy media thought-conditioning? Did it allow for Singaporeans' reluctance to bad-mouth their utterly brilliant government? Did it consider that, if there were a survey that measured a combination of both freedom and proclivity to complain about things, Hongkongers would be waaayy off the scale?
The South China Morning Post's op-ed piece assures us that Hong Kong is fine because of its geographic location, clustering of activities and talent, and the usual hardware/software stuff. The author concedes that quality of life and all the other problems we know so well (and highlighted by Civic Exchange) need to be fixed, but the overall impression is that Hong Kong will thrive so long as it wants to. It's not a new analysis. The basic idea is that Hong Kong does well despite, not because of, its government – and most people who live here would probably agree with it, more or less. (Traditional non-economists ascribe the city's success to the feng shui.)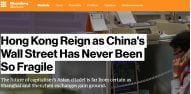 Meanwhile, Bloomberg plunges to uncharacteristic levels of dimwittedness in dredging up the old and hackneyed Shanghai-to-overtake-Hong Kong bullshit-blather that we all thought had been abandoned years back. The column invites us to slash our wrists over a series of irrelevant non-stories.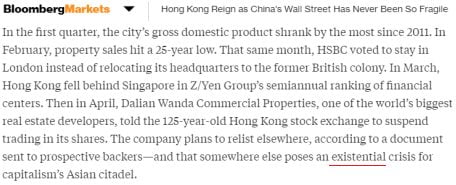 Hong Kong's GDP shrank in the first quarter. Actually, it rose 0.8% year-on-year (the rate of growth is what shrank). While not stunning, the slowdown does not seem to be causing layoffs or other hardship among ordinary folks; indeed, the closure of luxury-goods stores and the fall in tourist numbers can't happen fast enough for many of us.
Property sales are down. Apparently, reduced speculation in overpriced concrete boxes is a Bad Thing. But again, for most of us, falling housing costs can't happen fast enough.
HSBC aren't relocating here from London. They were never going to; no-one cared or cares.
Some group we've never heard of placed Singapore higher than Hong Kong on a list. Next year, they'll switch them back. It's how list-compilers get noticed.
A big Mainland firm wants to de-list in Hong Kong and move to the Mainland stock market. Of course they do – the valuation will zoom up and someone would make mega-bucks. Lots of Hong Kong- and New York-listed Mainland companies want to pull this trick. Wasn't it a Bloomberg article where I read that the median P/E ratio of stocks on the Shanghai and Shenzhen exchanges is 50 or something?
And then, just as the reader's eyes could apparently roll no more, the phrase 'existential crisis' has to come along.
Long story short: the only way Shanghai can 'overtake Hong Kong' and occupy the rung below London and New York is for the Chinese Communist Party to give up key monetary controls (to allow a freely convertible currency), scrap media censorship (so all these guys in suits can read the news), allow an independent judiciary (to replace the current 'rule of man') and otherwise generally commit suicide. It won't.
The danger to Hong Kong from China is not economic but political. The Communist Party clearly detests and fears the pluralistic city it finds on its hands. Although China's leaders probably do not want to, they are struggling to resist smothering the city and dragging it down closer to Shanghai's level of party-state controllability. That is the 'Threat to Hong Kong' story.