A free sample of an exciting new product lands on my desk. It is water – but not as we know it.
Traditional water – the stuff that has enabled life on this planet for some three billion years – is out. This is an improvement, using very fancy space-age technology.
The name is Aquaenergy…
The blurb on the bottle says it has been filtered through 13,000 feet of lava (how long would that take?) in Hawaii and is renewable because they have 200 inches of rain there…

The stuff they make the plastic bottles from, and which fuels the ships carrying the product from Hawaii to Hong Kong, is perhaps not renewable – but I guess it's a start. It then says that this water is rich in 'fine-tuned' (as opposed to sloppy) 'far infrared energy' thanks to 'unique patented Efficiency Enhancement Field Induction Technology (EEFIT)'…

Far infrared is some new-age quack therapy. EEFIT has a website promising a wide range of benefits in fields from energy to food production.
Just in case your bullshit detector hasn't gone off yet, the blurb goes on to claim that molecules in this water 'are in small clusters which contain a high oxygen capacity'…
I'm no scientist, but I do know that you get one atom of oxygen for every two of hydrogen in a water molecule, and if you put more oxygen in, it's not water any more; it might be – for example – hydrogen peroxide. I also doubt that you can reorganize the molecules of room-temperature water into 'small clusters'. We are then told that this water will enhance micro-circulation…

…which is an actual thing, if not hugely interesting: blood flow in tiny vessels like capillaries. The blurb then goes all Mainland…

…talking about Xinhua-style 'positive energy', insisting that the product is 'modern' and promising a solution to 'sub-health problems' – whatever they are.
There is a Aquaenergy website, complete with diagram of highly disciplined water molecules arranging themselves in neat star-shapes in order to permeate cells better than old crap-style water, and a reference to a Hong Kong Far Infrared Rays Association, who look like a bunch of hucksters, but who am I to say?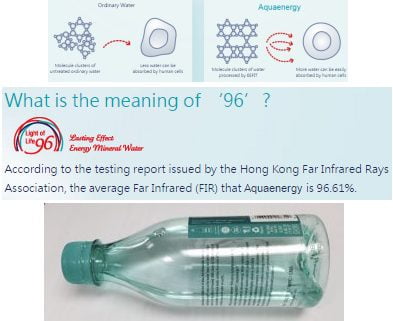 Of course you're not wondering, but, yes – it looks, smells and tastes exactly like any other water. I declare the weekend open by raising my glass of it in a toast to the hilariousness of pseudo-science.