In most parts of the world, architects and developers might consider aesthetics. They incorporate design features that add character or please the eye. Sometimes local codes make it compulsory, as with a setback guideline requiring a building to taper off at the top

to improve air and light. (And sometimes they go too far, as with the repulsively hideous 20 Fenchurch in London, or the grotesque structures of Mainland cities.)
In Hong Kong, where it is government policy to starve the people and economy of space, every inch is precious and every commercial tower maximizes its volume by being as straight-sided and block-like as possible. The few exceptions are prestige projects like big bank headquarters. See the contrast at Cheung Kong Center – 'the box the Bank of China came in'.
So how do you make an office block look elegant and attractive? Just joking! Of course – you don't. This is Hong Kong and developers, tenants and passers-by couldn't give a damn. As redevelopment has become more frenzied in recent years in Central, architects have been giving ever-lower priority to appearances. The latest fad in this uglification trend is to clip bits of plastic onto building façades to create a sort of mesh effect. They are clipping a 'module' or something on at a site on Des Voeux Rd below left…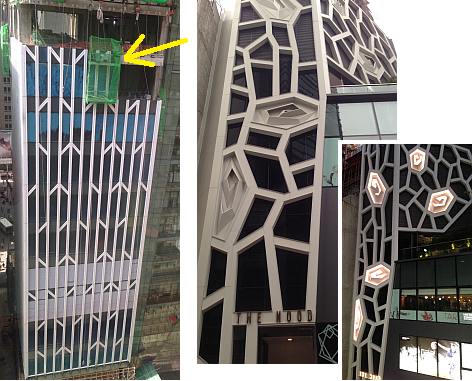 On the right is an even nastier example on Lyndhurst Terrace, which lights up at night. I hereby name this 'the 1960s sci-fi film set' look.
While the private sector merely makes the city look vile, the government is intent on destroying it as a living environment. Transport planner-psychopaths are excelling themselves on the reclaimed land in front of Central's IFC Mall. The following panorama photo shows the current view looking west from the walkway between the mall and Pier 3. I count at least eight lanes of road side by side…
Number 1 provides access to the side of the mall and feeds into 2, which is partly obscured by barriers. Numbers 3/4 and 5/6 are twin-lane roads dividing (westbound) and merging (eastbound). A space between 6 and 7 covered with construction materials may be a 9th lane. There could be a 10th hidden behind the barriers on the other side of 7. Certainly number 8 is behind them – that's the road nearest the piers, where you would be dropped off to catch a ferry.
So some deranged highways lunatic has managed to cram at least eight and possibly nine or 10 lanes alongside one another.
Our tax dollars at work.